'Overwatch' Uprising End Time: When the Uprising event will probably end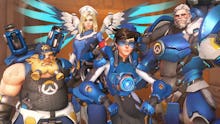 May 1 marks the final day for Overwatch's first lore-based seasonal event, Uprising. But if you're still grinding away to try and earn that last skin, you're probably in search of a bit more specific information about exactly how long you have before the event closes.
Blizzard hasn't announced an exact end time for Overwatch Uprising, but based on past events, we have a pretty good idea of what to expect.
What time will Overwatch Uprising end?
Most Overwatch events tend to conclude in the early afternoon, around 2 p.m. Eastern — the same time other patches and updates usually roll out.
However, if you have a specific item you want, you should make sure it's in your possession as early as possible, because Blizzard has a habit of ending its events at slightly irregular times.
For example, there was a bit of an uproar when the Halloween Terror event ended a couple of hours ahead of its scheduled 4 p.m. Eastern end time, leaving some players locked out of items they had planned on purchasing at the last minute.
If you need a reminder of all the cosmetic goodies available during the Uprising event, check out our full roundup of every item, and make sure you have what you want by marking it off on this handy Uprising checklist.
More Overwatch news and updates
For more on Overwatch, check out the rest of what Mic has to offer. Here is our Project Runway-style judging of every new Uprising skin, an unintentionally hilarious infographic showing the most popular Overwatch characters in each state, our definitive ranking of every Overwatch hero and a giant Overwatch FAQ for beginners.