Barbra Streisand says she faced discrimination from the Academy as a female director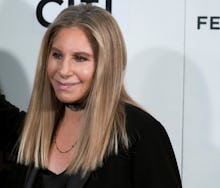 By the time Barbra Streisand got around to making films, she'd been an award-winning actress and singer — but that didn't mean she was treated fairly. 
In an interview at the Tribeca Film Festival, the Hollywood fixture said the Academy snubbed her films Yentl and The Prince of Tides because they were averse to the idea of a female director.
"There were a lot of older people," Streisand said on Saturday, according to Variety. "They don't want to see a woman director."
Streisand said the industry sexism even permeated the female critics reviewing the films, who she said were even harder on her than their male colleagues.
"None of [the female critics] talked about what the movie was trying to say," Streisand said. "It was not about what the movie was about — a celebration of women and all they could be."
Streisand's point about fellow women in the industry sometimes being harder on her than men follows closely on the heels of actress Anne Hathaway's comments about how internalized misogyny affected how she interacted with female directors.
Earlier this month, Hathaway said she had trust issues with Lone Scherfig, the female director of 2011 film One Day, because of her own unconscious bias.
"I am, to this day, scared that the reason I didn't trust her the way I trust some of the other directors I work with is because she's a woman," Hathaway said in an interview on Popcorn with Peter Travers. "I'm so scared that I treated her with internalized misogyny."
Streisand said it took a long time for her to recover from her experiences with sexism, both from other women and from the Academy's board (which we know has always been overwhelmingly male and white).
"I must have been more hurt than I thought, because I didn't want to direct for years," Streisand said Saturday.
Now, the star said she hopes she can be supportive of other female directors, who still face much of the same discrimination she did decades ago.
"Not enough women are directing now," said Streisand. "I love when I see a woman's name on the film, and then I want to see it be good."