'Anne with an E' Review: The Netflix adaptation hits the nostalgia button and more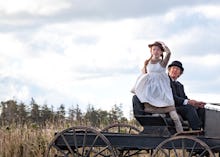 "I can't be perfectly happy," Anne Shirley tells her prospective adoptive father Matthew Cuthbert on their carriage ride to Green Gables. "Nobody could who has red hair. It will be my lifelong sorrow." 
Anyone familiar with the iconic, almost 110-year-old character Anne Shirley, aka Anne of Green Gables, knows she abhors her red hair, but may not necessarily know the reason why. This most recent adaptation of her story makes it painfully clear — red hair represented wickedness and ugliness in the 19th century, thereby making anyone unfortunate enough to be born with it an outsider. That is, however, exactly why so many young women seem to relate to her. 
Lucy Maud Montgomery's 1908 novel Anne of Green Gables has been adapted for television and film over 15 times in the last hundred years, each version reflecting to some degree the era in which it was created. Netflix's most recent effort, Anne With an E, is no different. Since today's entertainment is peppered with antiheroes — characters who are far from perfect, even occasionally villainous — it makes sense that Anne's familiar idealism is fringed with darkness and agony. 
For those who are unfamiliar with this beloved character's story, Anne is a child in a foster home on Prince Edward Island, Canada, who is brought to live with the middle-aged siblings Marilla and Matthew Cuthbert. They are initially put off by her for a number of reasons — she talks excessively, she's prone to dramatics and they wanted to adopt a boy — but soon enough her genuine likability wins them over, and they officially welcome her into the Cuthbert family. 
In the scope of today's film and television world, this version of Anne, played by newcomer Amybeth McNulty, is hard not to love. She's scrappy, filled with idealistic wonder — yet still level-headed when she needs to be —  awkward, bold, honest and wise beyond her years. Her thoughts and actions also strike an unmistakably feminist tone and give her an edge over the other girls and women around her. Unfortunately, that often creates discord. 
So how does this version of Anne differ from the ones who came before her? If you look at perhaps the most well-known adaptation — the 1985 Canadian miniseries that starred Megan Fellows and became one of the highest rated shows in Canadian broadcast history — you'll see it lies in the severity of Anne's situation. 
While the dialogue in the two adaptations is quite similar (they both remain close to the original novel), the mood behind the newer one is much bleaker —at least initially. For example, the desperation Anne exhibits when Marilla Cuthbert, played by Geraldine James, tells her she's going to be sent back to the foster home is utterly heartbreaking. Her reaction, coupled with a flashback to the horrible foster home Anne previously found herself in, gives Anne with an E a depth its 1985 predecessor lacked, which in turn makes it much more suited to an adult audience. Perhaps the same audience that fell in love with the miniseries as children are now eager for a return to Green Gables.
Moira Walley-Beckett, the writer, producer and showrunner of Anne with an E, is the woman behind the adaptation's tonal shift. She wrote the infamous, award-winning "Ozymandias" episode of Breaking Bad and produced Flesh and Bone, so she knows a thing or two about underdog characters. According to Walley-Backett, Anne has more of a role to play than simply diamond in the rough. 
I wanted to tell the story in a different way, in a way important to a new generation. I read between the lines, to mine what isn't there but has been there all along. Themes of identity, gender boundary issues, bullying, prejudice, being an outsider, being unaccepted, what it takes to belong. Through the eyes of this accidental feminist, who has no boundaries for herself.
This Anne represents every girl who's felt like an outsider for one reason or another, and the ways in which she chooses to rise up in the face of adversity make her a hero. While her fantasizing may seem silly at times, when juxtaposed against the abuses she's suffered, it demonstrates a will that's entirely impossible to squash. That's why fans who fell in love with the character decades ago will likely avidly tune in for this new Anne's adventures — she's the eternal beacon of hope we all need to look back on from time to time. 
Anne with an E, while darker than previous adaptations, is still filled with moments of pure joy. Diehard fans of the book and previous adaptations may take issue with the change in style, but the heart of the story remains ever-present, so they'll likely ultimately forgive that. 
Anne is also such a necessary character to introduce to the next generation of young people who might be dealing with bullies and feeling like outsiders. At the very least, she embodies how differences make us special, and how seeing the world for its possibilities rather than its limitations can in fact make it better. 
Check out one of the first full scenes here:
Mic has ongoing Netflix coverage. Please follow our main Netflix hub here.