Joe Biden says he's not going to run for president in 2020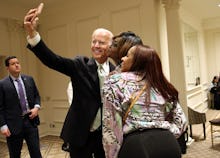 During an appearance in Manchester, New Hampshire, on Sunday, former Vice President Joe Biden shrugged off rumors that he is planning a 2020 presidential bid — telling the crowd, "Guys, I am not running."
Biden was in town for a Democratic party fundraising dinner, the Boston Globe reported, but his trip to New Hampshire, which holds the nation's first presidential primary, sparked speculation that he's gearing up for a run.
Biden, 74, has run for president twice, once in 1988 and again in 2008. And Biden has hinted that a another presidential run could be in his future — in December he joked about a 2020 run, and he's expressed "regret" that he never held the highest office in the land. 
Speaking in New Hampshire on Sunday, however, Biden didn't devote much time to speaking about his own political future. The Globe reported that the only time he mentioned his own plans was when he dismissed the idea of a presidential run in 2020. 
Just because he says he's not running though, doesn't mean it's necessarily off the table for good. Biden left office in January with a 61% approval rating — his highest rating ever, according to Gallup.
And candidates have, in the past, asserted that they weren't planning a run and then reversed directions — former Secretary of State Hillary Clinton spent years saying she wouldn't run for president again before announcing her candidacy in the 2016 election.