The schadenfreude of Fyre Festival and new Gorillaz: Breaking down the loudest hype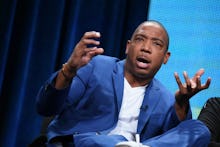 Any time an anticipated movie, TV show, album or other artistic product drops, one inevitable question lingers in the air: Does it live up to the hype? In our weekly Hype Tracker column, the Hype staff will take a closer look at three pieces of pop culture from the past week. We'll break down how well each stacks up compared to expectations. This week, we're looking at the disastrous Fyre Festival, the new Gorillaz album 'Humanz' and the Netflix series 'F is for Family.'
Thank God for Fyre Festival
Fyre Festival is an early contender for the most entertaining story of the year. What was set to be a luxury musical festival in the Bahamas — complete with Instagram models, gourmet dining, treasure hunts and Ja Rule, for some reason — ended up as a convincing reenactment of Lord of the Flies for unsuspecting partygoers. The purportedly private island getaway had a Sandals resort next door, attendees were fed terrible food, feral dogs roamed the beach and Ja Rule apologized over Twitter by basically saying he'll take responsibility, but it totally wasn't his fault.
Everything about Fyre Festival is amazing. The firsthand accounts shared over Twitter were exceptionally dramatic, and Reddit followed suit with faux recollections of attendees eating their first human and riffs of everyone's favorite Papa Roach song (now, thank heavens, it's "CUT MY TRUST FUND INTO PIECES"). It's even a modern-day parable for sirens: the Instamodels lured the Instakids to their doom.
I love this story so much, guys. I want to luxuriate myself in Fyre Festival memes until I die. But perhaps it's unfair to criticize the partygoers too much.
Even with blatant warning signs, if Ja Rule assured me that I could get screeners for The Young Pope season two and a candlelit dinner with Kristen Stewart where we discuss her latest Indie films on a remote island in Papua New Guinea, I'm RSVPing.
Did it live up to the hype? Depends on who you ask? People who actually attended Fyre Festival would've had a lot of hype for the event, only to be traumatized and scammed by Ja Rule. However, if you didn't know what Fyre Festival was — or didn't remotely care — until this weekend, then you had no built-in hype, but came away with a gift from God. — Miles Surrey
Gorillaz provide a worthy album for the Trump era 
It's been six years since the animated doombringers, the Gorillaz, gave their last prophecy, and it was a light one, Plastic Beach. It had its moments, but the benign tropical vibes and noncommittal stylistic choices definitely suggested a band in need of a vacation. Thankfully, the dreary, synth-heavy brainchild of Blur frontman Damon Albarn and animator Jamie Hewlett, chose the right time to return. Friday, the band released its fifth (fourth, not counting the iPad experiment The Fall) full-length studio album, Humanz.
Intending to be the soundtrack for an impending apocalypse, Albarn invites guests across musical genres to meditate on the state of our post-Brexit, Trump-beleaguered world. Pusha T raps with backing from Mavis Staples, dancehall hitmaker Popcaan croons alongside Albarn — most of the time its collaborations are just crazy enough to work. The more zany and idiosyncratic  — Jamie Principle and Zebra Katz on "Sex Murder Party" or Danny Brown and Kelela's "Submission" being two such examples — the better and more necessary. The album draws strength from its ability to blend disparate voice into a single horrendously depressing critique, and still somehow keep the proceedings fun. 
No one can do that like the Gorillaz at their best.
Did it live up to the hype? The expectations were higher than Trump tower, but the view from the penthouse was worth it. — Tom Barnes 
The return of F is for Family
Netflix has a pretty impressive list of original releases coming in May. From Sense8 and Master of None to House of Cards, there's plenty to be excited about if you subscribe to the streaming service. But there is one show in particular that I'm counting down until: F is for Family.
F is for Family is an animated comedy from the creative minds of comedian Bill Burr and The Simpsons writer Michael Price. Set in the '70s, the series follows a Korean War veteran named Frank Murphy, voiced by Burr, and his dysfunctional family. The series offers nonstop laughs with jokes reminiscent of your own youth — even if you weren't born until the '80s or '90s.
Season one is made up of six episodes, so it's an easy series to catch up on before season two is released on May 30. And six episodes just aren't enough, so let's just hope that season two delivers more.
Did it live up to the hype? As one of Netflix's more underappreciated comedies, F is for Family is worth a quick binge before the second season debuts. — Amanda Buckle