'Mario Kart 8 Deluxe' DLC Release Plans: 'Zelda: Breath of the Wild' update possible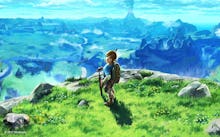 Mario Kart 8 Deluxe for Nintendo Switch is finally here. Players can enjoy most every character unlocked, every track available and every cheating method disabled. But if you've played Nintendo's other marquee Switch title, Legend of Zelda: Breath of the Wild, you'll notice Link looks a little dated in his green tunic. 
We may never see Mario Kart 8 Deluxe DLC — this is supposed to be the most complete version of the game — but there's a possibility that if there is DLC, it'll be costumes and aesthetics.
Mario Kart 8 Deluxe DLC release plans: Speculation about Zelda: Breath of the Wild costume packs
Games like Mario Kart 8 and Super Smash Bros. are great ways to ruin your friends in racing or fighting. They're also huge cross-promotion tools for Nintendo. 
It's no coincidence the Inklings from Splatoon 2 made it into Mario Kart 8 Deluxe right before the Switch game drops this summer. See the Inklings in commercials and in MK8 enough times, and you'll start to warm up to the idea of one day owning your friends in Nintendo's family-friendly paintball shooter.
The same could be said for Link in Mario Kart. While the first-party action game has already been released, the title is still for sale and there's always money to be made — even if the company's stocking situation may make you think otherwise. Offering a costume swap to use Link in Breath of the Wild's clothing would offer gamers subtle hints from Nintendo that they should really fire up the latest version of the Hylians' adventure.
Mario Kart 8 Deluxe DLC release plans: What other kinds of updates can we expect?
Mario Kart 8 Deluxe DLC has yet to be announced, but new cars could come to the game in a similar vein to the Mercedes Benz promotion we saw in the Wii U version. New games like Arms could lead to new characters entering the game; with new racers could come new tracks.
As we mentioned before, it may not be reasonable to expect Mario Kart 8 Deluxe DLC. The game is meant to be the fullest experience of Mario Kart available, so charging for extra content goes against that idea. 
But if we had our way, we'd take any Mario Kart 8 Deluxe DLC for free.
Check out more Mario Kart 8 Deluxe tips, tricks and news
If you're anxious to get racing in Mario Kart 8 Deluxe, check out our video gameplay of the first 20 minutes of the game and find out the eight characters the game needs ASAP. Check out the best techniques to race with and learn how you can buy the game bundled with the console, including one bundle from Nintendo. Find out if we're expecting DLC and our initial impressions of the new console it's on from back in January. Or you can play Mario Kart 64 on a newer console instead, if you're looking for some nostalgic throwback. And when all else fails, back that thang up.