Atlanta reporter resigns after saying "nigga" to get scoop on a police brutality video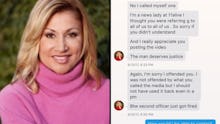 Valerie Hoff, a reporter for Atlanta's 11Alive news, resigned on Saturday after using the racial slur in a direct message, hoping it would get her the scoop on a video of two white officers punching a black man at a traffic stop in Georgia.
On April 13, Curtis Rivers, who tweets as @CurtFromDaBlock, shared the video footage. According to the Root, Hoff contacted Rivers shortly after he tweeted that "news niggas" were trying to get hold of his video footage. Naturally, Hoff slid into his DMs and wrote, "please call this news nigga" — referring to herself as a "nigga."
Hoff then got straight to business asking Rivers where he got the footage (he got it from a group chat). After an initial "LMFAO" response, Rivers called out Hoff for using the slur as a white woman. "I just looked through your photos and realized you aren't black, but you called me a nigga."
Hoff immediately attempted to apologize, citing that her main concern was giving the video justice. But in reply, Rivers asked, "How would I be able to contact your manager or lawyer?"
After Hoff resigned, white people weren't really happy with Rivers. Several white Twitter users were complaining about how it's unfair or hypocritical that they can't use the slur when black people do. Some said Rivers was being too "sensitive."
Hoff later told the Atlanta Journal Constitution that she has, and will continue to, apologize for her extremely offensive remark.
"I was quoting something the gentleman said in a public tweet back to him in a private message but that doesn't make it any less offensive," Hoff said. "It was incredibly stupid and reckless. I was in the middle of a pressure-filled day trying to chase down the video of a man being beaten and kicked by two Gwinnett police officers, which this particular gentleman had posted on twitter. I repeatedly apologized and continue to do so. I also offered to resign immediately."
Hoff will spend her time outside of the newsroom as a stay-at-home mom. She also hopes to work on her food blog.