The 7 best credit cards if you love to travel to international destinations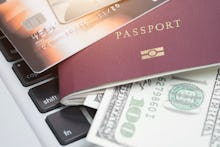 When it comes to picking out a credit card, option overload makes many of us choose wrong: A full fifth of credit card customers are packing the wrong kind of plastic, according to a recent customer satisfaction survey from J.D. Power.
To choose the best credit card for you, first ask yourself a few basic questions: Like simplicity? Opt for a basic a cash-back card. Typically carry a balance? Forgo perks for a no-frills card with a low- (or zero-) interest rate. Travel a ton? Find a card with perks that are tailored to your needs. Indeed, if you pay off your balance each month and travel abroad at least once a year, a credit card geared for travelers may be in your best interest, according to a recent NerdWallet analysis, with a few caveats.
One domestic trip is extremely unlikely to cut it, NerdWallet found, because a big part of where top cards deliver savings is by waiving foreign transaction fees. For that reason, low- or no-fee cash-back cards, like the Citi Double Cash or the Chase Freedom are going to be a better fit for most people, the NerdWallet analysis found. One exception is if you travel a lot — at least once a year to a different country or enough domestically to rack up $8,600 in costs. 
If that's you, then a travel card is the way to go. In a new study, WalletHub ranked the top credit cards for international travelers, based on transaction fees, benefits like travel assistance and convenience services like whether a company will mail you a free replacement in the case of a card loss.
Interestingly enough, one of the most coveted travel cards for millennials, the Chase Sapphire Reserve, was ranked within the top 10 but not the top seven despite lavish travel perks. That said, WalletHub Analyst, Jill Gonzalez said in an email, "serious travelers" could still make up for the hefty $450 annual fee the card charges with regular use. Here are WalletHub's top seven card picks:
The seven best international travel credit cards, according to WalletHub
7. Capital One Quicksilver World Elite Mastercard: A big part of this card's appeal is the lack of fees — users don't pay an annual fee or foreign-transaction fee. Users also get a $100 signing bonus, and 1.5% cash back on all purchases, regardless of category.
5 (tie). BankAmericard Travel Rewards Visa Signature Card: The BankAmericard also has no annual or foreign-transaction fees and offers bonus points for some travel-related expenses. 
5. MERRILL+ Visa Signature Card: The MERRILL+ card has no annual or foreign-transaction fees and features some pretty appealing perks for heavy travelers — like delay insurance and lost-luggage reimbursement.
3 (tie). Citi Prestige Card: The Citi Prestige Card has a high $450 annual fee, but lots of generous travel perks, including triple points on air travel and hotels and double points on dining.
3. Citi ThankYou Premier: The Premier has similar but scaled-back benefits as the Citi Prestige Card, in exchange for a much smaller $95 annual fee that you can get waived in the first year. 
2. USAA Visa Signature Cards: USAA cards are only for members of the military and their immediate family, and they also don't come with quite as many perks as other travel cards. That said, they come with no fees and APRs as low as 4% if you're on active duty — plus one point for every dollar you spend, with no caps or expirations.
1. Barclaycard Arrival Plus World Elite MasterCard: This Barclaycard came out on top in WalletHub's ranking, thanks to low fees — no foreign-transaction fees and no annual fee for the first year — as well as a generous sign-up bonus. You can also redeem travel points at any hotel or airline, which gives you a degree of flexibility to shop around more.
Getting excited to book your summer vacation? Here are more ways to enjoy traveling — while also saving a ton of money.
Sign up for The Payoff — your weekly crash course on how to live your best financial life. Additionally, for all your burning money questions, check out Mic's credit, savings, career, investing and health care hubs for more information — that pays off.