'Mario Kart 8 Deluxe' vs. Wii U Comparison: How the Nintendo Switch game compares to the original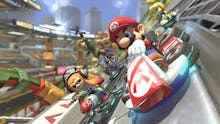 Mario Kart 8 Deluxe on Nintendo Switch is a ton of fun, but it isn't a new game. It actually came out on the Wii U back in 2014. You might be wondering if the new version looks significantly better on more powerful hardware, but the answer — depending on how you look at it — might be slightly disappointing.
Mario Kart 8 Deluxe Switch vs. Wii U comparison
Digital Foundry has a great breakdown of how Mario Kart 8 Deluxe compares to both its Wii U predecessor and Mario Kart 7 for 3DS. 
Visually, Mario Kart 8 Deluxe is exactly the same as Mario Kart 8 in all the ways most people would notice. The character models, animations, lighting and effects remain unchanged. The Switch version runs at a stable 60 frames per second in single-player as opposed to 59 fps on Wii U, but again, everyday players wouldn't see that. When you do local multiplayer with more than two people, the frame rate is cut in half, just like in the Wii U version.
The primary difference is that, when docked, the Switch version runs at 1080p instead of 720p. If you put the two side-by-side, it's a pretty noticeable difference in resolution; it looks incredibly sharp on a TV. As a bonus, you can now play it on the go because the Switch is a handheld console, too.
Even though it came out three years ago on an underpowered console, Mario Kart 8 is still one of the best-looking games around. This new version packs the same visual punch, while including all of the previously released DLC and a bunch of new battle-mode arenas. It's the ultimate Mario Kart experience, even though it's not radically different from its earlier version.
Check out more Mario Kart 8 Deluxe tips, news and coverage
If you're anxious to get racing in Mario Kart 8 Deluxe, check out our video gameplay of the first 20 minutes of the game and find out the eight characters the game needs ASAP. Check out the best techniques to race with and learn how you can buy the game bundled with the console, including one bundle from Nintendo. Find out if we're expecting DLC and our initial impressions of the new console it's on from back in January. Or you can play Mario Kart 64 on a newer console instead, if you're looking for some nostalgic throwback. And when all else fails, back that thang up.