Trump on debunked wiretapping allegations: "Our side's been proven very strongly"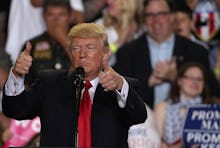 President Donald Trump's baseless claim that former President Barack Obama "wiretapped" Trump Tower and that the Obama administration "unmasked" members of his campaign have been publicly declared false from the United States intelligence community.
Yet Trump is still holding strong to his accusation, telling CBS' John Dickerson that his claims have "been proven very strongly."
The comment came in a testy exchange with Dickerson during an interview for CBS' Face the Nation. Dickerson had asked Trump whether he had received any advice from Obama.
Trump went on to give a rambling answer, in which he alluded to the surveillance claim.
"I don't stand by anything," Trump said when asked whether he stands by the wiretapping claim against Obama. 
He continued:
I just — you can take it the way you want. I think our side's been proven very strongly. And everybody's talking about it. And frankly it should be discussed. I think that is a very big surveillance of our citizens. I think it's a very big topic. And it's a topic that should be number one. And we should find out what the hell is going on.
When Dickerson kept pushing Trump to definitively say whether he believed Obama wiretapped him, Trump abruptly ended the interview.
"I want to know your opinions. You're the president of the United States," Dickerson said.