The first Fyre Festival lawsuit has been filed after disastrous weekend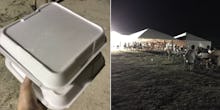 A lawsuit is already underway after the massive failure that was Fyre Festival — a much-hyped music festival in the Bahamas that fell apart even before its official first day on Friday. 
The suit, filed Sunday in California, accuses festival organizers Ja Rule and Billy McFarland of fraud and seeks $100 million in damages for attendees who reportedly paid between $4,000 and $100,000 per person to attend the pricey event, ABC News reported Monday. 
The suit was filed by Daniel Jung "on behalf of himself and all festival attendees," ABC News reported. It claims that Fyre Festival, billed as a "cultural moment" and promoted by Instagram "influencers" like Kendall Jenner and Bella Hadid, was "nothing more than a get-rich-quick scam from the very beginning," according to a statement from Jung's attorney, Mark Geragos.
Attendees who arrived in the Bahamas for Fyre Festival last week expected luxury accommodations in "modern, eco-friendly, geodesic domes," activities like beachfront yoga and Jet Skiing and high-end catering. 
What they actually got was what at least one disappointed attendee referred-to as "mass-chaos": disorganized tents, no security or staff and plain cheese sandwiches in Styrofoam boxes.
Ja Rule tweeted an apology on Twitter on Friday, saying the mess left him "heartbroken" and promising full refunds.
Jung himself is seeking $5 million in damages in the suit, Variety reported Monday, and Geragos is seeking class-action status, expecting more than a hundred more disappointed attendees to sign on to the suit.
Geragos reportedly alleged in the suit that the "festival's lack of adequate food, water, shelter and medical care created a dangerous and panicked situation among attendees — suddenly finding themselves stranded on a remote island without basic provisions — that was closer to The Hunger Games or Lord of the Flies than Coachella."