15 of the most iconic and memorable Met Gala dresses of all time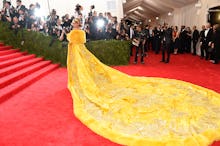 The Met Gala is known as a fashion prom, with designers and celebrities and fashionistas all coming together to celebrate the opening of the latest fashion exhibition at the Metropolitan Museum of Art. It really is a celebration of fashion as art, and therefore, it has given us some of the most iconic red carpet moments of all time. 
That's largely because the Met Gala red carpet offers the opportunity for celebrities and fashion's elite to really take risks and stick to a theme as obscure as, say, furniture of the 18th century, which happened in 2004 — or simply "punk," the 2013 theme. 
With this year's theme of Rei Kawakubo, the eccentric designer behind the label Comme des Garçons, we think we're in for a wild red carpet on Monday night. 
But before we can focus on this year's red carpet, we thought it apt to look back at some of the most historic and groundbreaking Met Gala red carpet moments to date, from royals making surprise appearances to Rihanna being, well, Rihanna. 
Naomi Campbell at the 1995 Met Gala 
The theme of the 1995 gala was "haute couture," or fashion that is handmade and fabulous — so of course Naomi Campbell had to come and show everyone how it's done. 
Campbell showed up to the 1995 gala in a dazzling, crystal-encrusted gown with exposed seams by Versace. And as iconic as this gown remains, perhaps more important than that was the fact that she attended the event on the arm of none other than Gianni Versace. 
Princess Diana at the 1996 Met Gala 
Princess Diana knew how to make a sartorial statement, and to her first and only Met Gala, she did just that. 
To the 1996 Met Gala, just a few weeks before her divorce from Prince Charles would be finalized, Diana surprised the gala by showing up in a midnight blue slip with black lace designed from John Galliano's debut collection as the creative director of Dior. She completed the look with a large pearl and sapphire choker and a Dior bag as well. 
With the theme that night being Christian Dior himself, not only was the look perfect for the event, but also for a woman on the brink of personal freedom who's dressing for herself alone.
Nicole Kidman at the 2003 Met Gala 
The theme of the 2003 Met Gala was "Goddess," so naturally, Nicole Kidman set the bar. 
To the gala, she wore a crystal-encrusted beige gown by Tom Ford for Gucci that, yeah, made her look like a 20th century goddess.  
Scarlett Johansson at the 2004 Met Gala 
To this day, when we think of Scarlett Johansson, we think about this dress from 2004. 
Though the theme of the gala was "Dangerous Liaisons: Fashion and Furniture in the 18th Century," which produced plenty of highly bizarre outfits, Johansson was able to stand out with a rather simple, sunshine-yellow satin dress by Calvin Klein with a flattering silhouette for her hourglass frame.
Karolina Kurkova at the 2005 Met Gala 
This is one of those dresses that begs to be photographed on a long, elegant staircase. And luckily for model Karolina Kurkova, that's exactly what the Met Gala allowed. 
To the 2005 gala, for which the theme was "The House of Chanel," Kurkova wore this literal statement-making gown by Viktor & Rolf, which was white satin and had "I Love You" written in red script encircled in crystals. 
Just take one second and envision this as a wedding gown. 
Sarah Jessica Parker at the 2006 Met Gala 
This is an example of an outfit that would only work at a Met Gala — especially when the theme is British fashion. 
To the 2006 gala, Sarah Jessica Parker arrived in what looked like a deconstructed kilt dress by none other than Alexander McQueen, perhaps England's most accomplished and extraordinary designer to date. 
McQueen, who was also Parker's date to the event, wore a similar outfit to Parker's, with a plaid swath of fabric overlapping his suit and kilt. 
Cameron Diaz at the 2007 Met Gala 
So listen: Cameron Diaz isn't exactly known for her extraordinary red carpet style. She's no Lupita Nyong'o or Cate Blanchett. But for the 2007 Met Gala, she did the damn thing. 
Though the theme was legendary French designer Paul Poiret, Diaz showed up in a hot pink dress from John Galliano's Christian Dior collection, and what made the dress ultimately pop was the turquoise jewelry she paired it with. 
Madonna at the 2009 Met Gala 
A reminder: Memorable dresses don't always have to be pretty.
That's just the case with this outfit Madonna wore to the 2009 Met Gala, for which the theme was "The Model as Muse," 'cuz girl looked like a sad bunny rabbit. 
The look itself was Louis Vuitton and it was... whimsical. The dress was in a nice color — a deep turqoise — but far too short. Then there are the boots, which kinda look like hooves. And then that bow... that damn bow, which was styled in such a way that Madonna looked like a bunny rabbit left out in the rain.  
Model Doutzen Kroes at the 2010 Met Gala 
It's perhaps cliche at this point to compare a gorgeous ballgown to Cinderella's ballgown, but in this instance, it's really the only thing it can be compared to. 
This Zac Posen gown, worn by model Doetzen Kroes at the 2010 Met Gala, was a showstopper, with an immense train and a fabric that looked like it floated in air. With the night's theme of American women, this dress looked to be a celebration of only the most glamorous and ethereal and angelic and impossibly beautiful woman on Earth. 
Ashley Olsen at the 2011 Met Gala 
This was a dress that, at first glance, looked like it had nothing to do with the theme of the night, which was Alexander McQueen. This dress, worn by Olsen, was actually vintage Christian Dior, but upon further inspection, it was near-genius. 
That's because part of McQueen's real aesthetic was about being fearless, and when you consider that a woman like Olsen — so petite and so slight — is trying to pull off these voluminous sleeves like she's Nicole Kidman, well damn, that's brave. 
Beyoncé at the 2012 Met Gala 
What Beyoncé did at the 2012 Met Gala was set a trend. This was just the beginning of see-through, nearly naked dresses making their way onto the Met Gala red carpet, with women like Kim Kardashian and Bey herself trying this again in 2015. 
To the 2012 event, for which the theme was "Schiaparelli and Prada," Beyonce showed up in a see-through black lace dress by Givenchy, which had a train lined with purple feathers. 
Kim Kardashian at the 2013 Met Gala 
This, like Madonna's dress in 2009, further proves that an iconic dress doesn't necessarily have to be pretty. In this case, the outfit comes from a pregnant Kim Kardashian making an unwise choice for her dress silhouette, and thusly creating "the couch dress." 
The theme of the 2013 Met Gala was "punk," so there were plenty of wild outfits on that red carpet. But none seemed to go down in history quite like Kardashian's Givenchy ensemble, which quickly became a meme. 
Lupita Nyong'o at the 2014 Met Gala 
The theme of the 2014 Met Gala was Charles James, who was known for his beautiful tailoring and timeless elegance. So who would have thought that a '20s-inspired Prada dress in bright green with feathers and a headband would steal the show?
What's also wholly remarkable about this look is that this was Lupita Nyong'o's Met Gala debut. She later donned an equally stunning — and also green — look in 2016, too. 
Rihanna at the 2015 Met Gala 
To the 2015 Met Gala, both Beyoncé and Kim Kardashian West may have shown up in dresses that left them nearly nude, but that wasn't enough to raise them to Rihanna's level for the event. 
That's because Riri showed up in a handmade golden coat encrusted in jewels and fur by Chinese designer Quo Pei. And for a night that was all about Chinese culture and design, it made for a perfect red carpet moment, with Rihanna paying obvious respect to Chinese craftsmanship. 
Kim Kardashian and Kanye West at the 2016 Met Gala 
At the 2016 Met Gala, there was plenty of competition for the most memorable red carpet moment. Beyoncé showed up in latex. Taylor Swift showed up as a robot. Solange showed up looking like the sun. 
But if was Kim Kardashian West and Kanye West, in their matching Balmain silver, glittery ensembles, that stole the night.
Considering all of these looks, and just how much fun celebrities can actually have on this red carpet, we're more excited for the 2017 Met Gala than ever before.