Nintendo Switch: 'Shaq Fu: A Legend Reborn' coming to the new console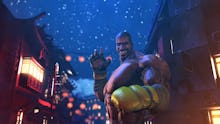 Back in the 1990s, there were a ton of questionable games based on individual athletes whose personal brands, at the time, were seen as strong enough to support a video game. Michael Jordan: Chaos in the Windy City and Bill Laimbeer's Combat Basketball are good examples of how strange some of those games were. 
Perhaps the most notable example of that trend was Shaq Fu, a 1994 fighting game about then-Orlando Magic superstar Shaquille O'Neal. Shaq Fu was an awful game that picked up notoriety at the time, and in the years since, for being awful. 
This somehow manifested in a successful crowdfunding campaign for a modern sequel in 2014 and a game announcement in 2015. We haven't seen Shaq Fu: A Legend Reborn in a while, but apparently it's coming to an additional platform.
Shaq Fu: A Legend Reborn coming to Nintendo Switch
Saber Interactive CEO Matthew Karch confirmed that a Switch version of the game, which was revealed with the above trailer in late 2015, is on the way, per Destructoid. The game was previously confirmed for PlayStation 4, Xbox One, PC and Wii U. 
While Shaq Fu was a terrible fighting game, Shaq Fu: A Legend Reborn looks like a beat-'em-up a la Double Dragon. You will play as a bizarrely proportioned version of O'Neal, who retired from the NBA in 2011 to pursue a career in broadcasting. There aren't any more details about when the game is coming out, but when it does come out, you'll be able to take it with you on the go on your Switch.
Check out more Nintendo Switch news and coverage
Looking for more Nintendo Switch news? Check out how blind gamers are using the Nintendo Switch. Nintendo's left Joy-Con issue turns out to be a hardware problem — here's how to solve it. Find out how to buy a console amidst the recent restock. Learn why the Switch cartridges taste so bad. Check out our comparison photos sizing up the Switch to the Wii U GamePad (part one and part two), or find out how to make use of ethernet without the dock and the best way to get alerts when new stock arrives.