SpaceX just successfully landed the Falcon 9 rocket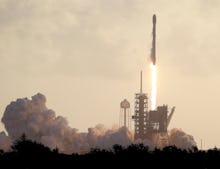 At 7:15 a.m. Eastern on Monday, SpaceX successfully launched a brand-new Falcon 9 rocket from the Kennedy Space Center in Cape Canaveral, Florida, marking the vehicle's fourth successful landing on solid ground, USA Today reported. The 230-foot rocket's first stage — the 14-story high core containing main engines and majority of the fuel — re-entered Earth's atmosphere and touched ground on a landing pad a few miles south of the launch site.
The Falcon 9 was originally slated to lift off on Sunday, but was canceled at the last minute due to a sensor issue on the rocket's first stage. "The team was looking into a sensor issue on the first stage that was a bit out of family with what we were expecting," John Federspiel, SpaceX mechanical design engineer, said on the company's countdown webcast. "Out of an abundance of caution, we have decided to scrub today's launch."
Despite a few weather hiccups, Monday's launch was deemed successful. "Launch and landing of the NRO spy satellite was good," SpaceX CEO Elon Musk said on Twitter after liftoff. "Tough call, as high altitude wind shear was at 98.6% of the theoretical load limit."
While the launch was SpaceX's 34th mission, it was the first assignment executed for the U.S. military — SpaceX received certification to launch satellites for the Air Force back in 2015. The national security mission launched a spy satellite dubbed NROL-76 for the U.S. Department of Defense's National Reconnaissance Office.
Due to the nature of the launch, neither the purpose of the mission nor the length of the satellite's orbit or final destination have been disclosed. Even the live broadcast of the launch had an air of mystery, showing just a handful of shots of the rocket's initial descent rather than continuous footage, according to the Verge.
The recovery of the rocket's first stage is notable, as SpaceX is working on recovering and refurbishing the vehicle's first stages so they can be reused. The company recovered a rocket's first stage for the first time in December 2015 and accomplished this an additional nine times since then. The vehicle landed on the ground during four of the recoveries, while six landed on a platform floating in sea — the water option is ideal for when a rocket does not have enough fuel to return to the launch site.
SpaceX successfully relaunched a refurbished Falcon 9 first stage in March to send an SES communications satellite into orbit. They recovered the first stage for a second time and have a long-term goal to have rockets ready to go for a second launch within 24 hours, according to TechCrunch.