What the new 'House of Cards' trailer says about season 5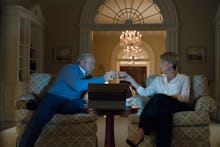 "The American people don't know what's best for them." This harrowing line — one that perhaps too closely resembles the sentiments of America's current leaders — is uttered by President Frank Underwood at the top of the trailer for House of Cards' fifth season. It heavily alludes to what was left unannounced at the end of season four — the outcome of the fictional 2016 presidential election.
The show is by no means an exact reflection of American politics, but it looks like the upcoming season may hit a few familiar notes. There will be a new president in the White House, and if it is, as the trailer suggests, Frank Underwood, things are about to change dramatically for the American people. 
But things could also change for the viewers. The political drama's style may look somewhat different now that original creator and showrunner Beau Willimon has been replaced by Melissa James Gibson and Frank Pugliese for season five.
While the trailer doesn't reveal too much — and even if it did, the rapid cuts make it difficult to understand — it does show Frank's determination to lord over the American people, by hook or by crook, for the foreseeable future. That frightening need for power, coupled with the warped Pledge of Allegiance video that announced the show's premiere date, are enough to make anyone nervous. 
Absolute power corrupts absolutely, right? Unfortunately, we won't know just how absolutely until season five drops May 30. If the trailer reveals anything, however, it shows Claire will remain by her husband's side. Even Frank notes her importance to his plans, using "we" when talking about governing the American people and saying, "Lucky for them, they have me, they have you." This equalizing relationship may prove most interesting in the season to come. 
One thing's for sure — Underwood 2016 would be a wholly unprecedented presidency.
Watch the trailer below:
Mic has ongoing Netflix coverage. Please follow our main Netflix hub here.