After rejection from his mom for wearing makeup, this teen got the ultimate Mac surprise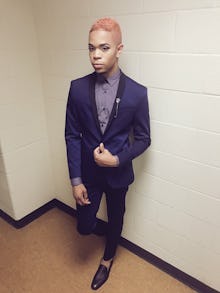 It's been a whirlwind week for 18-year-old Jauan Durbin. 
On April 22, the Morehouse College freshman shared a screenshot of a now-viral text exchange between him and his mother. In it, his mother denounced him wearing makeup and concluded by telling him: "I'm completely done."
"I didn't post the original screenshot to put my mom out there. It was more so that I knew there were other people out there going through the same situation that I'm going through, and many don't know if there's a way out of it," Durbin said in an interview with Mic at the time. "So I wanted to affirm them with my comments attached to the screenshot. That you should always live in your truth no matter if your parents don't agree with it. You seek validation from your parents, you try to live up to their expectations, but sometimes their expectations are unrealistic."
On April 28, less than a week after the story made the rounds, a special delivery arrived at Durbin's doorstep: a package from MAC cosmetics.
"I was so happy to receive the products they sent me! It was kind of like being a little kid in the candy store again," Durbin said in a follow-up interview. The robust package, included lip products, eyeshadow and brand-new brushes.
"We loved hearing how Jauan embraces his individuality — and by sharing his experiences, even though rather difficult, he helped so many others," MAC's Senior Vice President of Global Communications Catherine Bomboy Dougherty said in an interview. "At MAC, our motto is all ages, all races, all sexes; we're an inclusive brand and Jauan's story really hit home to us. Our sending a few products was a small gesture to show our support of his inspiring story.
Durbin is hoping that this could lead to a partnership "I'm really interested in trying to connect with MAC and be a face/be sponsored by them," Durbin said. "I think it'd be nice to have a palette that's in honor of LGBTQ youth worldwide." he added.
With Pride month coming up in June, the timing would certainly be ripe.