San Diego and Kentucky attacks show the hypocrisy of how the media covers white assailants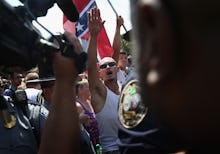 On Sunday, a 49-year-old gunman stormed into a pool party at an apartment complex in San Diego, California. Peter Selis killed one black woman and injured six others: three black women, two black men and one Hispanic man. According to CNN, Selis was fatally shot by police after aiming his weapon at three officers.
Two days before, another man attacked liberal students at a college in Lexington, Kentucky. Michael W. Adkins, the 19-year-old assailant, was armed with a machete and a backpack full of knives when he walked into Jazzman's Cafe at Transylvania University and asked students whether they identified as Democrat or Republican. After a female student presumably confessed she was a Democrat, Adkins attacked her.
Both of these men are white, and the coverage of these attacks highlights a double standard in how the media portrays alleged white assailants vs. their nonwhite counterparts. When it comes to violent crimes perpetrated by Muslim or Arab attackers — like the 2015 San Bernardino attack and the 2016 explosions in New York City's Chelsea neighborhood — the media scrutinizes every detail, often tracing the source of the individual's "radicalization." The coverage is often widespread and dominates cable news for hours. 
Yet attacks by white people are often just blips on the radar. People on Twitter were quick to call out the hypocrisy: 
In San Bernardino, press coverage from local news organizations to the New York Times attempted to determine how Syed Rizwan Farook and Tashfeen Malik were radicalized into killing 14 civilians and injuring 22 others. The New York Times published a piece calling Malik's path to radicalization a "morbid mystery." 
Ahmed Khan Rahimi received similar treatment. Immediately after Rahimi was accused of planting explosive devices in New York and New Jersey, William J. Sweeney, assistant director of the FBI's New York division, told reporters he did "not have information yet to show what the path of radicalization was." Later, newspapers like the Wall Street Journal and the Los Angeles Times dedicated teams of reporters to unpack his "long path to radicalization." 
Alleged suspects are often accused of being religious extremists before there is sufficient evidence. New York Gov. Andrew Cuomo also did this when, devoid of any clear evidence, he told cable news networks he believed Rahimi had a "foreign connection." 
White terrorism, on the other hand, is not foreign nor new. White supremacy is a deadly ideology, and a homegrown one at that. As Mic's Zak Cheney-Rice recently wrote, white conservatives refuse to admit domestic terrorism has long been a deadly threat to the United States. As people on social media pointed out, a silent President Donald Trump is complicit in this:
But part of the blame for this can be put on the media, which fails to apply the same level of scrutiny on white supremacy as they do with religious extremism. If this xenophobic and dangerous double standard continues, it will only empower the growing threat of white terrorism.