No one asked Priscilla Samey to prom, so she took her Harvard acceptance letter instead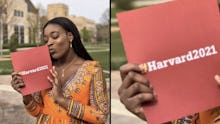 No date? No problem.
For 17-year-old Priscilla Samey, not having a date to her senior prom wasn't a heartbreaking event: Instead, Samey took her Harvard University acceptance letter to the dance. So what if the boys in her class didn't accept her — seven Ivy League schools did. 
"Couldn't find a man to accept me for prom so I took a college that did #Harvard2021 #prom2k17," the Minnesota teen tweeted on Saturday.
The tweet received a flood of attention on Twitter, with people praising the teen for her accomplishment and for keeping the hype over prom in perspective.
Samey — who scored a full ride to Harvard and was also accepted to Yale, Princeton, University of Pennsylvania, Cornell, Columbia and Brown — said she got the idea of going with her acceptance letter from her sister.
"She said, 'The best one [date] is all your college admissions,'" Samey said in an interview. 
She decided to take her sister's advice. "I was like, 'I'm just going to stick to my roots!'" she said.
The teen, who is the daughter of Togolese immigrants, stayed true to herself, she said — and in turn also saved a lot of money.
"I took a date that was pretty low maintenance, so I didn't have to pay for his dinner," she said. Samey added she also saved on her dress, which was an homage to her African culture and was made by a family friend.
The teen's classmates had nothing but support for Samey and her prom date. 
"They all thought it was so funny and cute," Samey said. "I didn't get any negative feedback like I thought I would and they all were very proud and supportive."
Samey will be majoring in political science with a pre-law track at Harvard and plans to get both her juris doctorate and a degree in business administration so she can go into business law.
As for advice she would give to other teens about applying to colleges, she said, "Be true to yourself."
"There's a lot of pressure nowadays that there's a type colleges want," Samey said. "Stick to your roots, and write essays that reflect who you are as a person."