NYC Mayor: Federal budget gives New York "what we are owed" to protect Trump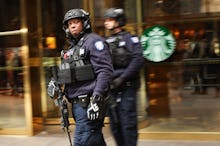 New York City Mayor Bill de Blasio announced on Monday the earmarking of millions of dollars in the proposed federal budget to reimburse the city for the exceptional cost of protecting President Donald Trump and his family.
"We are getting what we are owed," de Blasio said in a Monday statement. "That's good news for our city and the hardworking police officers faced with this unprecedented security challenge."
"The city spent $24 million protecting Trump Tower and the first family from Election Day through Inauguration Day," according to the mayor's office.
The budget proposal "includes $20 million for costs incurred between Election Day and Inauguration Day and $41 million for all costs after Inauguration Day," said de Blasio. "This funding is in addition to the $7 million that was allocated last fall."
First lady Melania Trump continues to live at Trump Tower in Midtown Manhattan while the couple's 11-year-old son, Barron, finishes out the school year.
"It is estimated that the city spends, on average, $127,000 to $146,000 a day for the NYPD to protect the First Family when President Trump is not in town," the mayor's statement noted, referring to police figures provided by Commissioner James O'Neill. 
"It is anticipated those costs will increase significantly whenever the President is in New York City, bringing NYPD's daily average cost to $308,000," the statement read.
As the police commissioner wrote members of Congress in a February letter asking for funding, 
The NYPD now serves a dual role in protecting the First Family and securing Trump Tower while simultaneously acting as a municipal police department charged with serving and protecting the millions of residents, visitors, and workers in the city. Moreover, Trump Tower itself now presents a target to those who wish to commit acts of terror against our country, further straining our limited counterterrorism resources.
Trump, in his first trip to his hometown since taking office, is scheduled to speak aboard the USS Intrepid in Manhattan on Thursday in commemoration of the World War II Battle of the Coral Sea. 
He will also meet with Australian Prime Minister Malcolm Turnbull, whom he reportedly chewed out in an angry phone February phone conversation.
Later Monday, Democrat de Blasio's re-election campaign sent out an appeal for cash that slammed Trump and his GOP.
"The threat that the largest and most diverse city in America could be run by the party of Trump is too terrifying to consider," the email read.