Katy Perry showed up to the 2017 Met Gala looking like a red bride — and Twitter is concerned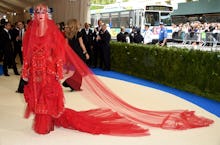 As a co-host to the Met Gala on Monday night, it's only natural that Katy Perry would want to fully lean into the night's theme of Rei Kawakubo and her otherworldly designs over at Comme des Garçons — and that's exactly what she did. 
Katy Perry arrived at the 2017 Met Gala in an elaborate red outfit complete with a veil and a massive dress, looking like a bride that had been dipped in, well, blood. 
Curiously though, the look actually isn't Kawakubo, but a custom Maison Margiela ensemble by John Galliano. 
Across the veil, a crown of sorts read "Witness." 
Almost immediately, Twitter was like, "You OK, girl?"
This is far from the first time Perry has taken the Met Gala as an opportunity to be as theatrical as possible. To the 2016 gala, for which the theme was fashion in an age of technology, she arrived with no eyebrows and in a military-inspired black and gold number by Prada. 
To the 2015 gala, Perry wore a Moschino dress designed by Jeremy Scott that looked like it had been spray-painted; she even showed up with a purse that looked like a can of spray paint. 
And to the 2013 gala, when the theme was simply "punk," she showed up in a golden crown and gold Dolce & Gabbana dress that looked like it had been peeled off the wall of a cathedral.
With Perry being one of the first to make their red carpet debut, we can only expect tonight's Met red carpet will be even wilder than we'd anticipated.