Solange basically wore a sleeping bag to the 2017 Met Gala — and she still looked cooler than you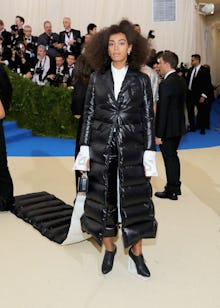 If anyone could pull off this look, it's Solange. 
To the 2017 Met Gala on Monday, Solange showed up in a Thom Browne ensemble, with a black and white puffy coat that looked exactly like a duvet cover, and shoes that looked like ice skates. 
Did she pull it off? Yes. 
On Twitter, some people were huge fans of the look, especially since Solange was one of the few people on the red carpet to really take Kawakubo's braveness in fashion to heart. 
Though others did point out that she kinda looked like she was walking in a sleeping bag — which isn't entirely wrong. 
Compared to her previous Met looks, this one fits right in. In 2016, Solange showed up in her take of a lemon (get it?), with a bright yellow pleated dress by David Laport and latex heels. 
And in 2015, she showed up in a holographic sculptural dress by Giles Mini.
For Solange, fashion really is art — and she wears it like it is too.