Ruth Negga came to the 2017 Met Gala in cornrows — and people loved it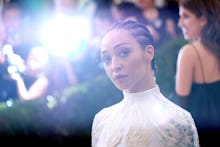 We had a feeling Ruth Negga was going to be one to watch on this Met Gala red carpet, and boy were we right. 
To the 2017 Met Gala, Negga wore a light blue, patterned Valentino dress, walking the red carpet with Valentino creative director Pierpaolo Piccioli. 
The dress, which was paneled, had satin peeking out along the edges and then down the front, what looks like a light flora pattern. But on the back, well, that's where the party was. 
A print that honestly looked like a Rorschach test. 
Twitter was, almost immediately, a huge fan. 
But even that wasn't really the star of Negga's look on Monday night. 
The star was actually Negga's hair, which was braided into cornrows.  
In wearing her hair in cornrows — a hairstyle widely appropriated by the likes of Kim Kardashian West and her sister, Khloé, and her other sister, Kylie — this was like Negga taking it back to the culture it came from. 
With Negga's history of being a fabulous dresser on red carpets, this look and hair is really no surprise. We're just glad more people are starting to realize just how much of a fashion powerhouse she really is.