Trump nixes Michelle Obama's "Let Girls Learn" program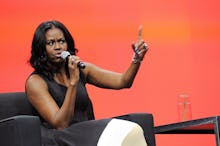 President Donald Trump's administration has officially put an end to former first lady Michelle Obama's "Let Girls Learn" program, an education initiative to help girls in developing countries. 
According to CNN, certain aspects of the program will continue to be in effect, albeit under a different name. What those aspects are remains unclear, especially considering the program's page on the White House's website has been removed. 
"Moving forward, we will not continue to use the 'Let Girls Learn' brand or maintain a stand-alone program," Sheila Crowley, acting director of the Peace Corps, told employees in an email. 
"'Let Girls Learn' provided a platform to showcase Peace Corps' strength in community development, shining a bright light on the work of our volunteers all over the world," she added. "We are so proud of what 'Let Girls Learn' accomplished and we have all of you to thank for this success."
This Trump administration move comes on the same day as word that secretary of agriculture Sonny Perdue would be altering Obama's signature healthy school lunch initiative.
Apparently, Perdue was expected to announce changes to the program "providing regulatory flexibility for the National School Lunch Program" during his visit to a Virginia elementary school on Monday. It's similarly dubious what aspects of the program would actually be impacted by Perdue's impending changes.
As for "Let Girls Learn," Michelle Obama's former chief of staff Tina Tchen said that while it's unfortunate Trump chose to discontinue a program that has received such widespread bipartisan support, she hopes his administration doesn't do away with it completely. 
"'Let Girls Learn' had several years of funding already baked," she said, referring to its $1 billion financial pledges. "We were hopeful that given that, it could continue. But obviously elections have consequences, and nobody knows that better than we."