'NBA 2K17': How to download the Ultimate Legends Roster 3 for PS4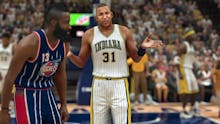 Around this time of year, NBA 2K17 fans who play MyGM and MyLeague may be in a bit of a dry spell. The new content that releases for NBA 2K never really affects either franchise mode.
That's one of the reasons I started building the Ultimate Legends roster. This is my third year creating it and I've expanded the concept since first beginning the project. 2017's version includes more than 250 NBA and ABA legends who aren't included in NBA 2K17, as well as younger versions of current stars.
The new roster was also boosted by the remarkable tutorials from YouTuber and artist Tgor. He's exceptionally talented, and with his help I was able to create renders like the one in the below trailer:
Unfortunately, the roster is only for PS4. In the past, fans have recreated it for Xbox One, but there's no guarantee that will happen this time.
NBA 2K17: How to download the Ultimate Legends Roster 3
Finding the roster is pretty simple. You can search the title, which is "The Ultimate Legends Roster 3," or you can search for my PSN ID, which is: franchiseplay99. Then just download it.
NBA 2K17: How the players were chosen for the Ultimate Legends Roster 3
One of the roster's objectives is to highlight the 15 most valuable players in every franchise's history. To identify those players, I created the Franchise Player Value Rating. It's a formula designed to reward individual accolades, statistical excellence, tenure and, of course, team success.
Here's a quick look at the ratings system, which was taken from my personal notes and previously posted on Forbes:
• Years of Service: 3 points
This isn't an exact science, but if you look at the results, they're in light with most fans' expectations. 
At 430.9, Michael Jordan's FPVR with the Chicago Bulls is the highest in basketball history. Tim Duncan has the second-highest at 405.7; at 400.8, Kobe Bryant is the only other player to crack 400.
Jordan, Duncan and Bryant spent all or most of their careers with one team, which helps because they accumulated points from such long tenures.
However, a good number of players appear on two or more teams because of their excellence with different organizations. Kareem Abdul-Jabbar is at the top of that list.
Abdul-Jabbar is on both the Los Angeles Lakers and Milwaukee Bucks roster, and he's the only player to crack the 200-point mark on the FPVR for multiple teams. In totality, his combined 529.8 FPVR is the highest among all players.
NBA 2K17: How are the players rated for the NBA 2K17 Ultimate Legends Roster 3?
The player ratings are based on stats, YouTube analysis, online research and an in-depth comprehension of NBA 2K17's in-game ratings system. It's an inexact science, but that's the case really any time you compare players from different eras.
There's no monetary gain from downloading the roster. It's just become a labor of love that blends two of my biggest passions: sports and gaming. Hopefully, it brings some enjoyment to those who download it.
More sports gaming news and updates
Love sports games? Check out more content from Mic, including tips for leveling up your NBA 2K17 MyPlayer, playing quarterback in Madden 17, our review of MLB The Show 17 and the classic Nintendo sports games we want to see on the Switch.