This Kentucky judge is refusing to hear adoption cases involving "practicing homosexuals"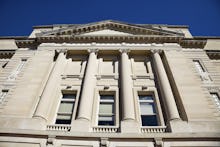 A Kentucky judge recently announced he would no longer hear adoption cases involving gay parents. Why, you ask? He just doesn't think a "practicing homosexual" should have children, the Courier-Journal reported.
Judge W. Mitchell Nance, who serves Kentucky's Barren and Metcalfe counties, released an order Thursday saying he would recuse himself from all future adoptions involving gay adults, calling his decision "a matter of conscience."
According to the Journal, Nance wrote that "under no circumstance" he would believe "the best interest of the child [would] be promoted by the adoption by a practicing homosexual." 
Nance cited a rule of judicial ethics that said judges should remove themselves from decisions in which they might have a personal bias, but some LGBTQ rights advocates are demanding he resign altogether.
"The bottom line is if this judge can't fulfill his duties because of his personal biases, he should resign," Dan Canon, a Kentucky lawyer who represented a same-sex couple in the case that led to the Supreme Court's historic Obergefell v. Hodges ruling, which legalized same-sex marriage nationwide, told the Journal.
"It's obviously better that the judge recuse himself from these cases rather than potentially wreck the lives of children who desperately need loving, adoptive parents," Canon added. "But it's disturbing that this judge would cast aside everything we know about adoptions by same-sex couples to reach the patently false conclusion that such adoptions are not in the best interests of a child."
Nance's refusal to hear adoptions involving same-sex parents echoes the 2015 case of Kim Davis, a county clerk in Rowan County, Kentucky, who was briefly jailed for refusing to issue marriage licenses to gay couples. Davis, an Apostolic Christian, cited her faith when she attempted to explain her behavior.
Speaking to the Journal, Nance said he stood behind "the matter of conscience I addressed and the decision I have made." He also said he couldn't cite any research suggesting gay adoptive parents would be in any way less fit than heterosexual parents.
Nance's order went into effect immediately, the Glasgow Daily Times reported Thursday. Any cases he would have heard involving same-sex adoption will now go before his colleague, 43rd Circuit Court Division 1 Judge John T. Alexander.
"I don't have any plans to recuse myself from any [adoption cases involving gay parents] so it should not affect the ability of any same-sex couples to adopt in Barren or Metcalfe counties," Alexander said, according to the Daily Times.