We need to talk about Janelle Monáe's look at the 2017 Met Gala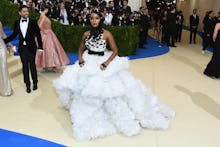 No one treats us on a red carpet quite like Janelle Monáe. Especially recently, her fashion has been extraordinary, like when she showed up to the Golden Globes in January like a party girl from the year 2070, and the Oscars in February looking like Cinderella From Space.
Monáe showed up to the 2017 Met Gala on Monday looking like Cinderella again, but with more of a punk rock edge. 
Monáe sat on a cloud of white fabric, with a tight waist and black and white embroidered bodice. At the neck, an explosion of feathers led up to Monáe's hair, which was studded with crystals, courtesy of hair stylist Nikki Nelms. The dress was by Ralph & Russo.
She also donned black tape around her fingers, which made all the rings on her fingers pop. 
The look was essential Monáe, with her affinity for black and white gowns that still stand out, and her affinity for a red lip that pulls the entire look together. (Also: Please peek the eyebrows.) 
Head to toe, it was everything we'd expect from a phenomenal Monáe look. 
She also brought at previous Met Galas. In 2015, she arrived in black and white — and a cape. 
And in 2014, she showed up in a black, white and red ensemble — with a cape then too. 
Monáe knows what she likes and what she looks good in — so she's sticking to it.