Fox News co-president Bill Shine has been ousted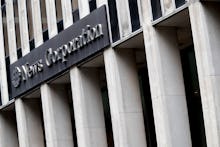 Bill Shine is the latest casualty in Fox News' ongoing sexual harassment controversy.
According to a tweet from New York magazine editor Gabriel Sherman, two inside sources have said the network's co-president was ousted Monday morning.
The outlet reported on Thursday that there may be a "management shakeup looming at Fox," with Shine's job possibly on the line. Though 21st Century Fox and News Corp. executive chairman Rupert Murdoch had taken Shine and co-president Jack Abernethy out to a very public business lunch earlier that week, New York wrote that Shine had privately "expressed concern" about his job security at the news network.
Murdoch's sons James and Lachlan Murdoch have allegedly refused to release a statement in support of Shine, and, lunch dates notwithstanding, the co-president maintained Rupert himself wasn't "fighting for him" in the press, either. 
Murdoch confirmed Shine's departure in a statement on Monday published by CNN. "Bill has played a huge role in building Fox News to its present position as the nation's biggest and most important cable channel in the history of the industry," Murdoch said. "His contribution to our channel and our country will resonate for many years."
Word of Shine's resignation comes on the heels of host Bill O'Reilly's ousting in April, following a spate of sexual harassment accusations.
While O'Reilly leaving Fox News was celebrated as a significant victory for activists protesting his continued employment at the network, many were quick to point out that the sexist culture at Fox is much larger than the conservative pundit.
As CNN reported, Shine has not been accused of harassment himself; however, he is implicated in allegations that he helped cover up his colleagues' alleged wrongdoings.
Firing Shine is a way for the Murdochs to prove they're serious about getting to the root of Fox News' problem with sexual harassment — not for women's benefit of course, but for the sake of the billions of dollars hanging in the balance. 
May 1, 2017, 3:45 p.m.: This story has been updated.
Correction: May 1, 2017