What Melania Trump wore her 15th week as first lady — the 2 times we saw her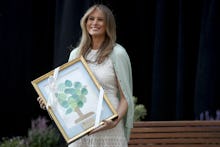 Now past her 100-day mark, Melania Trump is settling in nicely as first lady. She's out there attending local Washington, D.C. events and carving out a style that's all her own — full of '50s silhouettes and nipped-in waists. 
Given that it's springtime in D.C. — and New York — Trump is fully leaning into it, incorporating plenty of pastels into her first lady wardrobe. 
This week, we saw her just two times, but she continued to enforce the idea that she is a first lady who we will never see look unkempt or rushed. She is a woman who knows what clothes look good on her, and she's sticking to it. 
Here is what she wore this week: 
Friday, April 28: A spring-y white lace dress for a hospital visit 
For the opening of a healing garden at the Children's National Medical Center in D.C. on Friday — after we published our weekly report — Trump wore a white eyelet dress with a flirty hem and a sea-foam green cardigan overtop. 
The dress is by Italian designer Giambattista Valli, and retails for more than $3,000. While the cardigan is still sans designer, we know the light beige shoes she wore were, yet again, Christian Louboutins. 
Thursday, May 4: A yellow silk dress for dinner with the Australian prime minister
Trump switched things up with a pop of color on Thursday. 
For dinner with Australian Prime Minister Malcolm Turnbull at New York's Intrepid Sea, Air and Space Museum, the first lady wore a yellow silk crepe dress by Christian Dior. 
You can see previous recaps of what Melania Trump wore here.