Sean Spicer struggles to defend Trump's willingness to meet murderous dictators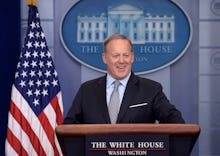 White House press secretary Sean Spicer had plenty to answer for on Monday.
Over the past few days, President Donald Trump said he'd be "honored" to meet with North Korean dictator Kim Jong Un and extended an invitation to the White House to Filipino President Rodrigo Duterte, despite Duterte's public admission to having personally killed suspected criminals during his mayoral stint in the Philippines. 
At Monday's press briefing, when asked whether Trump knew about Duterte's murderous tendencies, Spicer merely said Trump is "briefed" before speaking with world leaders.
When asked why Trump said it would be an "honor" to meet with Kim Jong Un, despite Un's disturbing human rights abuses, Spicer said Un is "still a head of state" and himself praised Un, saying he "led his country forward" at an early age.
New York Times reporter Glenn Thrush pressed Spicer further on why Trump has chosen to praise world leaders with troubling human rights records such as Un, Turkish Prime Minister Recep Tayyip Erdogan, Russian President Vladimir Putin and former Iraqi dictator Saddam Hussein.
"Does the president have a thing with these totalitarian leaders?" Thrush asked Spicer. "Does he admire something with the way these guys conduct themselves?"
Again, Spicer demurred:
The president, clearly, as I've said, understands the threat that North Korea poses. Having someone with potential nuclear capability to strike another country and potentially our country at some point in the future is something the president takes very seriously. And so the idea that he's doing everything diplomatically, economically and militarily to consider every way to prevent that threat from taking on the United States is something.
Who's ready for another several hundred days?