Silicon Valley can resist Trump's tech values — or they can join his council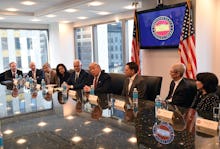 Some of the most powerful leaders in technology have willingly sat alongside President Donald Trump — a decision that has not inspired faith in their resistance to the discriminatory and privacy-crippling policies coming out of the new administration.
The first intimate gathering was Trump's technology roundtable in December — among the attendees were Amazon CEO Jeff Bezos, Alphabet CEO Larry Page, Facebook COO Sheryl Sandberg, venture capitalist Peter Thiel, Apple CEO Tim Cook and Microsoft CEO Satya Nadella. And now, several months and tech employee protests later, the White House announced that it is organizing an American Technology Council to meet in early June. 
"About 20 leading tech CEOs will spend half a day in working sessions," Axios reported. "We're told a few tech titans have indicated a willingness to participate."
Sources told Recode that Trump's team had reached out to companies including Apple, Amazon, Cisco, Facebook, Google, IBM, Intel, Oracle, Salesforce and SpaceX to attend the meeting in June. Oracle CEO Safra Catz, who served on Trump's transition team, will participate, the company confirmed to Recode, and a source told the publication that IBM CEO Virginia Rometty "appears likely attend."
Mic reached out to Apple, Facebook, Twitter, Google, Microsoft, IBM, LinkedIn, Amazon, Salesforce, Samsung, Intel, Lyft, Uber, Palantir, SpaceX, Tesla, Oracle and Snapchat and asked if they plan to have someone in leadership attend Trump's American Technology Council. And, if they were invited and don't plan to attend, to explain why. Uber is not participating. LinkedIn and Twitter declined to comment. Oracle said, "This is a government only Council" in an email.
"For those people who decide to go to this meeting you are going in a position of privilege and you have probably always enjoyed a position of privilege most of your life if not all of your life," executive in residence at Venture for America Leslie Miley said. Miley was previously an engineering manager at Twitter and the director of engineering at Slack. He continued:
And as you sit there with someone who has nothing but privilege, and as [Trump] slowly erodes people's liberties, and as he slowly tears people's families apart, and he slowly tears apart the fabric of what we're trying to be as a country, you really need to ask yourself where the hell your priorities are.
Miley said that now, more than 100 days into the administration, we know what Trump and his team are about and how they operate. He noted that Trump uses gatherings like the technology roundtable and the American Technology Council with high-profile tech leaders for photo-ops and good press, but that he will "go and do whatever the hell he wants to do anyway." 
"The question to be asked is: Did your meeting in December net you any benefit?" Miley said. "Did you get any benefit from that meeting? And if the answer to that question is no, you didn't, then maybe you shouldn't take a second meeting. Your position has already been degraded by the first meeting, how much more do you want to degrade it." 
Tech leaders oppose Trump... sometimes
Ahead of Trump's December roundtable, Mic spoke with Miley about post-election Silicon Valley's deafening silence, and the importance of tech titans turning down invitations to seats at Trump's table. 
While Google CEO Sundar Pichai and co-founder Sergey Brin joined their employees in a protest against Trump's immigration ban, it has been predominantly tech workers organizing and publicly dissenting Trump's policies — leadership seems to only rise to the occasion when policies are bad for business. Aside from vocalizing the importance of H1-B visas for Silicon Valley, its CEOs and founders have mostly stayed out of the resistance. And willingly joining Trump's American Technology Council would signal a stark contrast to that resistance.
"There should be an unequivocal no, we are not attending this based upon this administration's actions," Miley said. "Nothing else makes any sense." 
Trump is bad for tech, its workers and its consumers
"It is the policy of the United States to promote the secure, efficient and economical use of information technology to achieve its missions," a statement from the White House on the American Technology Council stated. "Americans deserve better digital services from their government.  To effectuate this policy, the federal government must transform and modernize its information technology and how it uses and delivers digital services."
And yet, Trump's immigration policies deeply impact Silicon Valley employees on work visas. Furthermore, FCC chairman Ajit Pai's stances on net neutrality — the principle that internet service providers can't favor or block particular sources so that consumers get equal access to all content — and privacy are not in the best interest of consumers. Pai also reversed former FCC chair Tom Wheeler's ruling that provided low-income households with internet access.
"You have the administration gutting policies that were put in place to protect people and to give us a more fair and equitable use of our technology and that's being rolled back executive order after executive order," Miley said.