'Better Call Saul' season 3, episode 4 lays bare the bitter feud between Gus and Hector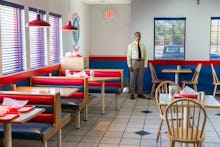 The opening seconds of "Sabrosito," the fourth episode of Better Call Saul season 3, is such an immediate callback to Breaking Bad that it's actually a bit jarring. We've really moved on from the slow-burn, decidedly lower stakes of Jimmy McGill and his corrupt descent to Saul Goodman into the transcontinental drug trade that eventually consumes Walter White. 
Need a refresher? Well, "Sabrosito" starts with the sight of Don Eladio, the cartel boss of Gus Fring, diving headfirst into his swimming pool. You'll recall the final moments of Fring's revenge against the cartel in Breaking Bad, in which he poisons Don Eladio and his men (and himself, though he swallows an emetic), with Eladio careening into the pool just as Fring offers up a memorable death stare. 
This time, however, Don Eladio's just taking a dip when Hector Salamanca arrives. Hector informs him, proudly, that he's purchased an ice cream company in Albuquerque, New Mexico, where their product can easily cross the border. The company, called Sabrosito — which translates to "tasty" — even has a little ice cream man logo that Hector enviably compares to Don Eladio (cool?). He then presents a duffel bag filled with rolled up wads of cash: a decent haul. 
It would've been impressive, if not for Fring upstaging him in what has to be deliberate timing. Fring isn't there to deliver it himself — he's too busy running Los Pollos Hermanos — but he has three duffel bags to present, complete with tidy, package-sealed rows of cash. It's not just more money; it's presented better, too (plus, he has a Los Pollos Hermanos shirt for Don Eladio). A visibly jealous Hector can only watch as Don Eladio puts on the Los Pollos Hermanos shirt and requests that Hector hands over his cash in the same, orderly manner as Fring. 
Yes, there are so many levels of petty here. If you were to replace Albuquerque and the cartel with upper-class housewives on the coast of California, you'd have the incessant bickering of HBO's Big Little Lies. It's unclear just how far back this scene takes place, but we know what happens to Hector in Better Call Saul's present. Thanks to Mike's meticulous work in episode 3, Hector's Sabrosito operation has been shut down — he's going to need to find a new way to transport his product between borders. Hector's, um, solution? Basically swinging his dick around at one of Fring's Los Pollos Hermanos. 
He enters one of the restaurants, henchman at his side, and swaggers toward the unassuming assistant manager, Lyle. Hector insists that he speaks with Fring — Lyle tells him he's currently out — so he helps himself to some soda and makes his way behind the counter and toward Fring's office. Fring, who was doing his community-service thing by providing chicken to the fire department, returns to the restaurant and asks his frightened employees to leave for the day. In one of my favorite Better Call Saul quotes to date, Lyle bravely asks: "Mr. Fring, are you sure you want to be left with these guys?" 
Fring's facade is so convincing that his everyman employees fear for his wellbeing. It's oddly endearing. The terse conversation between Fring and Hector, in which Hector demands that he moves his product through Fring's operation, doesn't end with a resolution for Hector. In fact, Fring reads him. "Don Hector, mine is a cartel business," he tells him. "But it's mine, and it's legitimate." Please leave now, Hector. 
Fring then takes the time to clean up the restaurant — his employees were basically held as hostages around a few tables, though they were at least fed — and rather giddily tosses a piece of aluminum foil in the garbage from a distance (I really wish he shouted, "Kobe!"). For Fring's standards, that's a surprising amount of emotion, and it makes one thing clear: He's loving the fact that Hector is losing his grip. 
In case you need reminding of Fring's contempt, Hector executed his business partner and presumed lover — Hector even takes a homophobic dig at their restaurant name in the episode's cold open, calling them "the butt brothers." So when Mike later meets with Fring, who hopes he'll work with him in the future, Fring offers an unsurprising explanation for why he stopped him from executing Hector back in the season 2 finale. "A bullet to the head would've been far too humane." Not since Dwayne "The Rock" Johnson and Vin Diesel has a feud been so bitter. 
The Fring storyline is so juicy and full of Breaking Bad callbacks that it's beginning to overshadow Jimmy McGill (remember him?). Jimmy has limited screentime in his own show this week, though the sluggish pace of his legal proceedings with Chuck at least feels realistic. Ideally, the competing stories of Jimmy and Mike will find a balance in the near future, lest they be consumed by the spinoff idea fans had previously been clamoring for: The Rise of Gus. 
Mic has ongoing coverage of Better Call Saul. Follow our main Better Call Saul hub here.