Route 66 might be iconic, but the real story — one of American Indians — has been lost along the way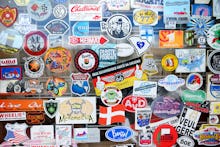 Beloved destinations often have overlooked histories. Mic dives into how the past shapes what travelers see today.
When Route 66 opened in 1926, crossing eight states, three time zones and dozens of different tribal lands, the highway created a shorter route from Chicago to Los Angeles. It also invented an iconic road trip and earned a place in American popular culture. From the many covers of the 1946 R&B classic "Get Your Kicks on Route 66" to Instagram posts of the beloved highway crest, Route 66 continues to attract millions of people wanting to drive some, or all, of its 2,400 miles. And when they do, they pass more than a few faded motel and gift shop signs emblazoned with tepee and Indian headdresses.
Lisa Snell, a citizen of the Cherokee Nation, remembers noticing the kitschy Indian signs when she did the quintessential American road trip with a friend from Germany 20 years ago. "You'd see a big tepee for a Navajo trading post or gift shop, and I had to say, 'No, Navajo didn't live in tepees. They lived in hogans,'" said Snell in a phone interview. "My friend grew up watching Indians on TV and she had that blanket stereotypical view of what American Indians were all like. I would explain to her this isn't right. She was like 'Wow, I had no idea.'"
Snell, a writer and editor at Native Oklahoma magazine, is still pointing out the difference between people who build hogans (houses made of wood, mud and bark) and tepees (mobile shelter used by the nomadic Plains Indians). In 2016, she published a comprehensive travel guide, American Indians and Route 66, that documents tribal nations along the route. "It's to get a little nugget of history as well as some ideas of what to do on your vacation," she said of the 69-page guide that contains events and activities open to travelers, tips on visitor etiquette and plenty of Native American history.
The guide was produced by the American Indian Alaska Native Tourism Association with some funding from the National Park Service Route 66 Corridor Preservation Program. "We're always looking at opportunities for native tribes across the nation to tell their stories, especially the untold historical stories that Indian Country has to tell," said Camille Ferguson, AIANTA's executive director, in a phone interview.
"People are hungry for the truth and the authentic real stories and experiences," said Kaisa Barthuli, a program manager with the Route 66 Corridor Preservation Program, part of the National Park Service, in a phone interview. "And we're excited because as an icon of America, Route 66 can and should tell every American story." There are plans to expand the guide and create a mobile app to make it easier for travelers to learn about Indian Country.
Just as there is no monolithic American, there is no singular American Indian
Snell hopes the guide will encourage people to stop along Route 66 and get to know a few of the native locals. "I've met people who have never met an Indian, never talked to an Indian," she said. "I think there's an absence in our everyday mainstream lifestyle, a voice that's not heard, a presence that's not being felt."
More than half of the Route 66 — about 1,372 miles — runs through Indian Country. Oklahoma has 39 different Indian nations. New Mexico has 19 American Indian pueblos. In Arizona you'll find the Navajo (Diné), Hopi and Hualapai and in Southern California there's the San Manuel Band of Mission Indians, the Fort Mojave Tribe and the state-recognized Gabrielino-Tongva Band of Mission Indians.
"The wide and diverse range of indigenous experience didn't make it onto those kitschy signs and the decades of marketing along Route 66."
But the wide and diverse range of indigenous experience didn't make it onto those kitschy signs and the decades of marketing along Route 66, which was decommissioned as a federal highway in 1985. American Indians and Route 66 illustrates how a monolithic and entirely mythical American Indian was co-opted to sell everything from hamburgers to key chains on Route 66. According to Snell's book, in 1926, entrepreneur Fred Harvey started offering visitors to Santa Fe a chance to be an honorary Indian chief for the day. Harvey hired Pueblo Indians as tour guides and dressed them in feathers and buckskins, the traditional garb of Plains Indians.
The guide gives a quick overview of indigenous history including the Pueblo Revolt in the 17th century, thousands of Cherokee moving from Oklahoma to California in the 1930s and urban native resettlement in the 1950s. A map at the start of the guide shows the different tribal lands on the highway (another one documents the hundreds of different tribes across the country) and invites roadtrippers to pick a powwow along the way and brush up on the original American history at a number of sites, including the three below.
Cahokia Mounds State Historic Site, Illinois
At the Cahokia Mounds State Historic Site in southern Illinois, a UNESCO World Heritage Site, you can visit the remains of an ancient city that had a population of 100,000 back in 1250 AD, bigger than London was at the time. Wander through the interpretative center to learn more about the people who lived in the agricultural society, take guided hiking tours or head out and explore the 2,200-acre site on your own. When you climb to the top of Monks Mound, the largest prehistoric earthen mound on the continent, you can catch a glimpse of the Gateway Arch in St. Louis.
Cherokee Nation, Oklahoma
Cherokee Nation encompasses 7,000 square miles, 14 counties in Oklahoma and hundreds of years of history. At the many museums, visitors can take part in events from making moccasins to learning about the Cherokee language with interactive exhibits. "Most people know about the Indian removal and the Trail of Tears," said Travis Owens, director of cultural tourism and community relations for Cherokee Nation Businesses, in a phone interview. "But our story goes so far beyond that. We have this history but we are still a people and we're still here thriving today."
Acoma pueblo, New Mexico
Acoma pueblo, the oldest continuously inhabited community in North America, is built on top of a high sandstone bluff in a beautiful New Mexico valley about an hour west of Albuquerque. Residents have been enjoying the view from atop the mesa, a flat-topped hill, and making pottery with intricate geometric patterns, which pueblo people are known for, since about 1150 A.D. Visitors can take a tour of the ancient pueblo, known as Sky City. "We take our guests to the mesa top in a walking guiding tour," said Melvin Juanico, the operations manager, at Sky City Cultural Center and Haak'u Museum at Acoma pueblo, in a phone interview. "Our guests can't drive to the top on their own because the mesa top is very sacred."