Van Jones: "The easiest thing in the world is to become the thing that you're fighting"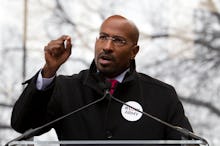 In the basement of a church in New York City's East Village on Friday, Van Jones delivered his vision for the Trump resistance. 
"The biggest challenge that we've got, is to hold on to our own humanity in the face of the dehumanizing onslaught from Trump," Jones said in an interview with Mic. "The easiest thing in the world is to become the thing that you're fighting. Trump's heart is closed, so we close our heart. I disagree with that. When it gets harder to love, we should love harder. We should love more people."
Jones had just delivered a rousing speech at the 2017 Revolutionary Love Conference, an annual conference dedicated to using "disruptive ethics to dismantle racism." The CNN political correspondent and author laid out his hopes and fears for progressives mobilized in the wake of Trump's election.
"Are we going to proceed based on fear?" Jones asked of those opposing Trump's policies. "Or are we going to proceed based on love? That's the question."
"Are we going to essentially be the Tea Party in reverse, or are we going to be something else?"
Jones cautioned against the movement against Trump taking positions that would be exclusionary or see their opponents as unredeemable enemies
"We can vote against each other, but we don't have to hate each other," he said. "We can disagree with each other, but we don't have to disrespect each other."
In the interview, Jones called out people who had de-friended their friends on social media because of differing views points. 
"We've got to be able to say, 'I feel this way, I insist that I be understood and I want to understand.'"
Jones has become both a champion and an object of critique within the left. His now-famous monologue on election night was a salve for many dizzied Hillary Clinton-supporters trying to make sense of the historic night's results. But more recently, Jones faced backlash for claiming that Trump "became president of the United States" when he honored a fallen Navy SEAL's widow at a joint session of Congress in February. Despite whatever small fallout from liberals his comments provoked, Jones continues to be profoundly hopeful about the future of the progressive movement.
"Who you chose to be yesterday determines what you can do tomorrow," he said. "This day we've got to choose love, so that tomorrow we can govern for all the people."