Sean Hannity is either about to leave Fox News or playing it up for ratings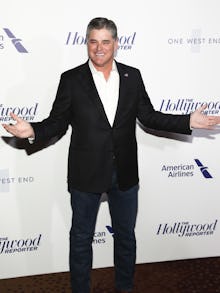 Multiple news reports on Monday suggested Fox News commentator Sean Hannity is planning on ditching the network just days after former colleague Bill O'Reilly was forced out over numerous allegations of sexual harassment — rumors that, if true, would see the news empire lose one of its last remaining headline stars.
Fox News insiders told the Daily Beast after the departure of co-president Bill Shine, which Hannity has warned would be the "total end" of the network, Hannity is looking for an exit.
"The network now belongs to the Murdoch sons," one of the Beast's sources said in reference to the children of Australian media magnate Rupert Murdoch, who owns all Fox properties.
Others said Hannity could be leaving as early as Monday or Tuesday, or next week, given Shine's departure.
Media reporter Gabriel Sherman, whose previous reporting indicates a number of well-placed sources at the network, tweeted Hannity has a "key man clause" allowing him to terminate his contract with the network if certain people were fired. Shine is apparently one of those key men, and was also close to departed executive Roger Ailes, who like O'Reilly was forced out amid accusations of sexual and racial harassment (as well as waging private wars against political enemies).
Somewhat further into the weeds, an anonymous "TV executive" told Mediaite he is trying to lure Hannity into signing up for "an alternative conservative cable network on the belief that the Fox News Network is moving too far to the left."
It's worth noting similar rumors circulated about none other than President Donald Trump, who was widely speculated to be preparing to launch a TV venture if his electoral bid failed.
Other sources told conservative site Independent Journal Review, however, the rumors of Hannity's departure were untrue and no negotiations for a departure are underway.
Hannity himself was not above playing up the speculation for ratings, tweeting "If I have anything to say about @FoxNews I will say it tonight at 10 est." He added IJR's account was accurate.