Jaden Smith's Met Gala accessory? His shaved-off dreadlocks.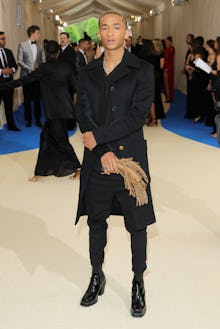 For an event as wild as the 2017 Met Gala, with its theme of Rei Kawakubo and Comme des Garçons, we expected Jaden Smith would dress appropriately. Maybe he'd wear shorts with his suit jacket, or maybe he'd wear a skirt. 
But carry his newly-shorn dreadlocks as an accessory? That's not something we expected. 
To the 2017 Met Gala, Smith walked the blue and white red carpet with his cut-off blonde dreadlocks in his hands, like a clutch. 
It was just April when Smith made headlines for cutting off his locs, so we guess he decided to keep them specifically to carry at the Met Gala. 
Surprisingly, Twitter was, for the most part, pretty here for it. 
And Lorde was here for it too. 
For an event that's supposed to be breaking fashion's rules, this is an accessory that honestly makes sense.