Kylie Jenner goes nude on the 2017 Met Gala red carpet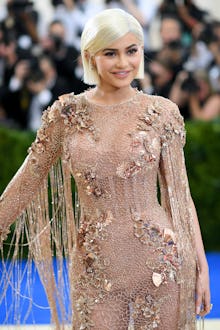 As anyone who has seen a Kylie Jenner lip kit or watched an episode of Keeping Up With the Kardashians knows, Kylie Jenner is a huge fan of nudes — when it comes to lips, that is. 
Jenner decided to stick with her favorite color palette for the 2017 Costume Institute Met Gala, wearing a shimmering nude metallic net Versace gown. 
The sheer dress showed off Jenner's insane body, with a structured bustier underneath. The dress was futuristic mermaid chic: not exactly the sort of structured/deconstructed pieces we'd expect for an event celebrating Commes des Garçons legend Rei Kawakubo, but edgy and innovative. Jenner, who "invented wigs," sported a one-night-only blonde bob for the occasion.
Jenner arrived in Versace with Donatella Versace herself, a sure sign that the reality star is one of the evening's biggest stars, a feat for a fashion event as huge as the Met Gala. Twitter doesn't seem too keen on Jenner's look, however.
Twitter has a point: Jenner loves wearing cutout gowns that show off her rocking body on the red carpet. At the 2016 Met Gala, the makeup mogul wore a barely-there Balmain gown. If you've got it, flaunt it.