Kendall Jenner makes her first post-Pepsi controversy red carpet appearance at the 2017 Met Gala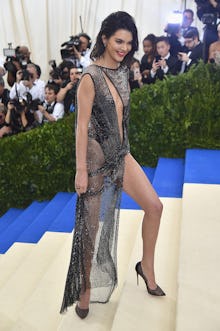 Fresh off of the controversy surrounding her ill-advised Pepsi ad, Kendall Jenner arrived at the 2017 Met Gala looking like she'd been caught in a fisherman's net — or maybe like she'd been raiding Cher's closet. 
The dazzling sheer gown clung to the supermodel's lithe frame and hid nothing, not even her matching thong.
Jenner has been out of the spotlight since her extremely questionable protest-inspired Pepsi ad. Her appearance on the red carpet walk at the Met Gala is her first major appearance since the April debacle. If you're going to come out of hiding you might as well do it at the Met Ball.
It comes as no surprise that Jenner's dress is La Pearla couture: Jenner is the new spokesperson for the designer lingerie brand, and this gown is basically lingerie. 
This is Jenner's second year at the Met Gala; in 2016, she wore a cut-out Atelier Versace number.
Like her half-sister Kim, Jenner walked the red carpet solo (her sister Kylie, however, opted for Donatella Versace as her date).