Madonna arrived at the 2017 Met Gala ready for war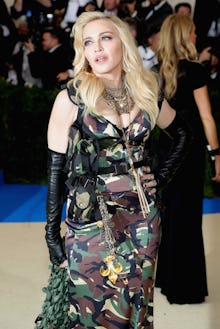 Madonna showed up on the 2017 Met Gala red carpet looking like she'd just finished basic training in a camouflage Jeremy Scott-designed Moschino gown, dragging a net train behind her.
The Material Girl was ready for boot camp with a canteen clipped to her belt, channeling Demi Moore in G.I. Jane more than Comme des Garçons legend Rei Kawakubo, the focus of the Costume Institute's newest exhibit.
This is Madonna's seventh time on the Met Ball red carpet, and one thing is certain: she never disappoints to wear something eye-catching. She always wears a major designer: last year she appeared in a strappy black Givenchy that let her breasts hang out — thank goodness for pasties.
Madonna's has had some iconic looks on the Met Gala red carpet over the years: who could forget her 2009 Louis Vuitton Donnie Darko bunny ear moment or her plaid Givenchy mini and Bettie Page bangs for 2013's punk exhibit?
Madonna is always captivating on any red carpet, but not necessarily always in a good way. Her army glam is very Moschino: Jeremy Scott's last runway show borrowed heavily from military uniforms, and Madonna has worn Moschino on many red carpets, including the Met Gala red carpet: in 2015 Scott designed a dress for her with the title of her album Rebel Heart written across it. 
A word of advice to the pop icon: maybe Moschino should be a no-no from now on for the red carpet.