Baylor University suspends frat after "Cinco de Drinko" bash with sombreros, maid outfits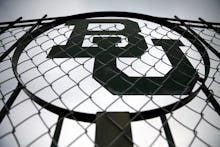 The Cinco de Mayo antics have begun early this year. 
Baylor University's chapter of the Kappa Sigma fraternity was temporarily suspended on Monday pending investigations on behalf of both the university and the fraternity's national organization, the Dallas Morning News reported.
Photos circulating on Twitter showed partygoers wearing sombreros and serapes while DJing, drinking and dancing at the "Cinco de Drinko" party. 
According to the Waco Tribune-Herald, students reported that partygoers also dressed as construction workers and chanted "build that wall" in reference to president Donald Trump's pet project — a border wall between the United States and Mexico. 
Some reports of brown face surfaced, according to the Morning News, but those have not been substantiated. 
On Monday, hundreds of students voiced their disapproval of the party with an on-campus protest, according to the Baylor Lariat, a campus newspaper. The protest was called "Love Thy Neighbor." 
Damian Moncada, president of the Hispanic Student Association, called the theme a "slap in the face" to the Lariat after the organization hosted an event meant to foster respect and unity last month. 
"A lot of advocates for the event have been saying that they were promoting Mexican heritage and Latino culture, and that is not the case," Moncada told the Lariat. "Whenever you are representing a group of people and just dressing up all the same and you are painting your face a different color, that's not accurately representing people and I think you're shaming people for being a different color." 
Natasha Nkhama, a student who was an alleged victim of a racially-motivated incident last fall, told the Lariat that students of color are exhausted by racism on campus. 
"I'm just tired. I don't want us to keep walking every time something happens and with as tired as y'all are of hearing about racism, we're tired of experiencing it," Nkhama said.
Vice president of student life Kevin Jackson called the event "racially insensitive" in a statement to the Morning News. Jackson also attended the student demonstration, per a tweet from the Lariat. Jackson did not immediately reply to Mic's request for comment.
In a tweet sent out on Monday, the university confirmed the suspension. 
Moncada said he forgives the fraternity for the party.
"To the fraternity, I'd like to say 'I forgive you.' I forgive you and I'm sorry you believe that Mexican heritage should be depicted the way that you depicted it," Moncada said in a statement to the Lariat. "I can advocate for myself and tell the fraternity that I forgive them, that they're wrong, and because I believe in justice that there should be a disciplinary consequence."