Russian police detain protesters decrying Chechnya's torture, killing of gay, bisexual men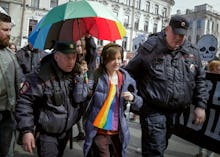 Russian police detained about 20 gay rights protesters demonstrating alongside a May Day protest in St. Petersburg on Monday, the New York Times reported.The gay rights activists were demonstrating against the human rights abuses men perceived to be gay or bisexual face in the Russian republic of Chechnya, including reports of torture and killing. 
The May Day demonstration was the first significant public protest against the abuses inside Russian borders. Protesters laid their bodies down on the ground, draped themselves in rainbow flags and Chechen flags. Among those arrested, according to the Times, was Igor Kochetkov, director of the Russian LGBT Network, which has been helping gay men escape from Chechnya. 
According to the Times, one Russian news outlet reported that protesters were arrested for "violations by participants of a public activity of the rules of its implementation." 
According to one member of British Parliament, Chechen leader Ramzan Kadyrov wants the community's gay community eliminated by the beginning of Ramadan, May 26. However, according to the Times, Kadyrov denies these reports. 
"You should ask those devils to apologize and kneel before the Chechen people for insults, humiliation and accusation," Kadyrov told a television station in April, the Times reports. He was referring to Russian journalists reporting Chechen human rights abuses.
"The best way to lead a healthy lifestyle is to have the right orientation," he said. "God created us men, women and animals. Have you seen any religious pronouncement that would say you should marry a cat, for example?"
Chechen gay men have said the government found them through posing as gay men on social networking sites to lure and detain them.