Who is Savitar on 'The Flash'? Answer to be revealed — seriously — in "I Know Who You Are"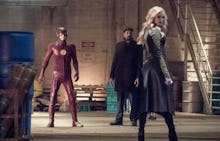 With only four episodes left in The Flash's third season, there is still one enormous mystery plaguing Barry Allen and the rest of his team. That mystery is, of course, the identity of Barry's greatest villain yet: Savitar. Ever since the self-proclaimed "God of Speed" showed up on The Flash, he has proven to be nearly unstoppable, even forcing Barry to travel into the future in an effort to defeat him — and thus prevent Iris' murder.
So far, though, Savitar's identity has alluded Barry and the rest of Team Flash, and the only people who know for sure who is under the villain's armor are Abra Kadabra and, more recently, Caitlin Snow. Unfortunately for Barry, Abra Kadabra is either rotting in an Earth-19 prison or is dead. And Caitlin Snow is unlikely to be much help since she has currently gone full-blown Killer Frost and has now aligned herself with Savitar.
While Abra Kadabra, Caitlin Snow and even the future Barry Allen have so far not helped shine a light on Savitar's identity, the mystery will be solved — very soon. In episode 20, appropriately titled, "I Know Who You Are," Barry will finally learn who may very well kill Iris West in just a few weeks. Whether Savitar is Wally West, Ronnie Raymond or someone else entirely, though, is not yet known. And even after Barry learns Savitar's identity, the bigger question may just be: Can he be stopped?
How will Barry stop Savitar?
In "I Know Who You Are," Barry will take another huge step forward in his quest to once and for all defeat Savitar. While his trek to the future was a failure in terms of learning his adversary's identity, Barry's future self did reveal that a scientist named Tracy Brand will help trap Savitar in the Speed Force. In episode 20, Barry will try and track down Brand, but he will not be the only one looking for her. 
Savitar, being from the future, must also know that Brand is responsible for his time spent in the Speed Force, because Killer Frost will try and beat Team Flash to her in "I Know Who You Are." And this will lead to yet another showdown between Cisco and Caitlin — one that could lead to Vibe losing his powers for good. 
For more on Tuesday's big reveal, check out the synopsis for "I Know Who You Are," below: 
Barry (Grant Gustin) and the team meet Tracy Brand (guest star Anne Dudek), a scientist, who may be the key to stopping Savitar. Unfortunately, Killer Frost (Danielle Panabaker) is also after Tracy, so Team Flash must battle their old friend, which proves to be particularly difficult for Cisco (Carlos Valdes). Joe (Jesse L. Martin) and Cecile's (guest star Danielle Nicolet) relationship takes a big turn. 
Mic has ongoing coverage of The Flash. Please follow our main The Flash hub here.