What does "Blotus" mean? Stephen Colbert roasts Trump for 'Face the Nation' comments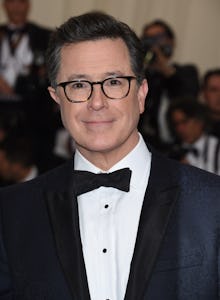 The Late Show host Stephen Colbert has brought the term "Blotus" to a new level of exposure. On Monday night, the comedian used the word, which means "Biggest Liar of the United States," when roasting President Donald Trump. Colbert was getting back at the president for insulting journalist John Dickerson of CBS' Face the Nation during an interview about his first 100 days in office on Sunday night. 
"You're not the POTUS; you're the BLOTUS," Colbert said. "You're the glutton with a button. You're a regular Gorge Washington."
"Blotus" has been in use on social media since as early as January, before Trump was inaugurated. Watch the full clip of Colbert's roasting below.
During Monday night's show segment, Colbert played a clip of Trump's interview with Dickerson. The following comments prompted the comedian to take aim at the president:
"It's very funny when the fake media goes out, you know which we call the mainstream media, which sometimes I must say is you," Trump said to Dickerson. 
"You mean me personally? Or..." Dickerson replied. 
Trump continued, "I love your show. I call it 'Deface the Nation.'"
Besides calling Trump the "Blotus," Colbert had an even longer laundry list of clapbacks for Trump, including: "Mr. Trump, I love your presidency. I call it Disgrace the Nation," and "You have more people marching against you than cancer." He didn't stop there: "In fact, the only thing your mouth is good for is being Vladimir Putin's c*ck holster."
Mic has ongoing Stephen Colbert coverage. Please follow our main Stephen Colbert hub.