Hasan Minhaj returns to 'The Daily Show' after White House correspondents' dinner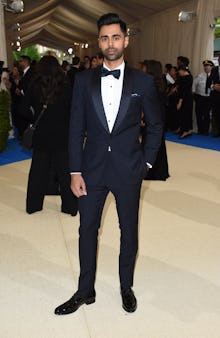 Hasan Minhaj received high praise after his roast of President Donald Trump at the White House Correspondents Association dinner on Saturday night. 
He took aim at Trump, who did not attend the annual event. With nothing off limits, Minhaj roasted Trump, the media and Steve Bannon. 
After slaying his headlining set at the dinner, Minhaj returned to The Daily Show on Monday night to gloat about taking down Trump. 
Minhaj walked out in a wrestling robe and with two champion belts in hand. He was on cloud nine as he believed he was the one who finally caused Trump to resign. "You've been trying to take down Trump for a year and a half," he told host Trevor Noah. "I did it in one night." 
"It was a total knockout finish, my man," Minhaj said. "I got up. I gave my speech. And then 25 minutes later, Donald Trump resigned the presidency. He cried. He apologized to America for wasting our time."
Unfortunately for Minhaj, Noah had some crushing news. "None of that happened," Noah said. "Trump is still president." Minhaj was disappointed, but still happy because he gets to keep his belts. 
After Minhaj left the stage, Noah reminded everyone that Trump still hasn't changed. "The best proof that President Trump hasn't changed a bit in 100 days is this," Noah said before showing a clip of a Trump supporter behind him at a rally mouthing his speech word for word.
Better luck next time, Minhaj. 
Mic has ongoing TV coverage. Please follow our main TV hub here.