How does 'Master of None' season 2 end? A breakdown of the cliffhanger ending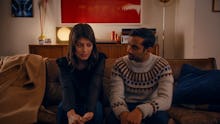 One normally associates TV cliffhangers with dramas — and, when specifically talking about bad cliffhangers, The Walking Dead — but hey, comedies can execute them as well. And Netflix's Master of None had perhaps one of the most ambiguous cliffhangers of 2017 to wrap up its second season, which, depending on how quickly you binged through the show, means an excruciatingly long wait to figure out what the hell happened. 
Confused? Let's break down the final scene, how to interpret it and what it could mean for the series' future. 
(Editor's note: Spoilers for the Master of None season two finale ahead). 
As season two takes its times to reveal — though it may have been more apparent from the viewer's perspective — the friendship between Dev (co-creator Aziz Ansari) and Francesca (Alessandra Mastronardi) evolves into something more intimate. But Francesca can't act on these feelings because of her engagement to Pinot. So Francesca's at an impasse: Does she stay with Pinot and return to small-town Italy, and presumably raise a family, or make the more spontaneous move to New York to try a new relationship with Dev?
Meanwhile, Dev's budding career as a food television personality — which, yes, is almost unrealistically amazing — hits a roadblock when it's revealed that his co-star Chef Jeff is having a Bill O'Reilly-esque fall from grace. He's sexually harassed several women over the years at his job. They're speaking up for themselves, and all of this comes crashing down on Jeff during a talk show segment hosted by Raven-Symoné alongside Dev. Dev, though not complicit in Jeff's actions, is shoehorned into the controversy, considering their show is called Best Food Friends — or BFFs for short — and they've been chumming it up on TV. 
So Dev's personal and professional life is in shambles, and, to make matters worse, he runs into his ex-girlfriend Rachel on the street for what is a decidedly awkward exchange of pleasantries. Meanwhile, Francesca's bags are packed and she's getting ready to fly back to Italy with Pinot. That makes it all the more surprising when the final shot of the season is Francesca, lying in bed next to Dev in his apartment. 
There's a few ways to interpret this. The most obvious is that Francesca decided to leave Pinot and try things out with Dev, suggesting the final scene with the two of them in bed confirms her decision. However, the brief scene has an ethereal quality to it — there isn't any dialogue. It could just as well be a hazy daydream, conjured up by either Francesca or Dev, who aren't in the best of places at the end of this season. A final alternative: We know Francesca spent one night at Dev's apartment during an intense snowstorm earlier in the season, and the shot of Dev's apartment window in the finale shows a flurry of snow. Perhaps we're looking at a flashback to the night she spent at his apartment, when they fell asleep next to each other. 
It is, quite simply, up to interpretation until Ansari, Mastronardi or co-creator Alan Yang give us a definitive answer. Will that answer have to wait until the third season of Master of None? For the sake of the show's fans, let's hope not. In an interview with Vulture, Ansari said he wasn't sure if there'd be a third season of the comedy — and if there ever is, it would take a while to return.
"I don't know if we're going to do a season three," he said. "I've got to become a different guy before I write a third season, is my personal thought. I've got to get married or have a kid or something. I don't have anything else to say about being a young guy being single in New York eating food around town all the time." True, he does eat a lot of food. 
It might not be the answer fans want, but there's a silver lining in Ansari's answer. If Master of None does eventually return, it may explore an older Dev tackling marriage and parenthood. If that's the case, the ambiguous ending with Francesca may turn out to be the beginning of the new stage of his life. That's worth holding onto, as we brace for an indefinite series hiatus. 
The second season of Master of None is currently streaming on Netflix. 
Mic has ongoing Master of None coverage. Follow our main Master of None hub here.