7 stars who nailed the 2017 Met Gala theme — and 14 that couldn't be bothered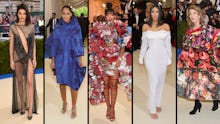 There is but one rule when it comes to sticking the landing of a Met Gala red carpet look — and it has nothing to do with aspirations of "Best Dressed." 
The cardinal rule for earning a spot on the coveted carpet is an adherence to the theme, which in this case was Japanese designer Rei Kawakubo and her designs over at Comme des Garçons. 
This should have served as a massive signal: When in doubt, wear Comme! 
After all, it's the first time the museum has honored a living solo designer since Yves Saint Laurent 1983. Nothing could ensure one looking more on theme then by choosing the very designer being celebrated, right?
Last week, we had predicted we'd see far less sleek, demure dresses on display than in years past. It seemed like a safe bet — Comme des Garçons is after all known for its larger-than-life, asymmetrical silhouettes and for presenting fashion as living and breathing sculpture. 
Many of the stars in attendance during last night's Met Gala seemed to have missed the memo, whether due to playing it safe or perhaps sheer ignorance. 
Let's get to it.
Adhered to a T:
Rihanna (Comme des Garçons)
Caroline Kennedy (Comme des Garçons)
Julianne Moore (Calvin Klein)
Halle Berry (Atelier Versace)
Missed the mark:
Lady Gaga (No show)
Amy Schumer (Zac Posen)
Gwyneth Paltrow (Calvin Klein)
Jennifer Lopez (Valentino)
Madonna (Jeremy Scott)
Selena Gomez (Coach)
Karlie Kloss (Carolina Herrera)
Gisele Bündchen ("sustainable" Stella McCartney)
Paris Jackson (Calvin Klein)
Kate Bosworth (Tory Burch)
Emily Ratajkowski (Marc Jacobs)