From heels to skirts, men had some of the most groundbreaking Met Gala fashion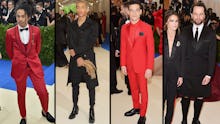 In years past, it was always the women who ruled the Met Gala red carpet. Naomi Campbell in 1995. Princess Diana in 1996. Sarah Jessica Parker in 2006. Beyoncé in 2012. Lupita Nyong'o in 2014. Rihanna in 2015 (and 2017 too, if we're being honest).
But this year, although Rihanna definitely ruled, men's fashion actually started to get interesting, with several celebrities finally attempting to break some of the boundaries fashion has set up for what is acceptable for men to really wear.
Like, Jaden Smith, in addition to carrying his newly-shorn dreadlocks like a clutch, wore elevated heels.
And actor Matthew Rhys wore a skirt, while his partner, Keri Russell, wore pants.
And in addition to men breaking down fashion's bogus gender rules, we also got plenty of men putting their own spin on the suit.
Donald Glover wore a floral jacket by Burberry.
Roger Federer wore a Gucci jacket with a bedazzled cobra on the back.
Rami Malek was decked out in all-red Dior.
Frank Ocean, out of hiding but regrettably underdressed, managed to make a statement too by just wearing a white button down, black pants and a broach. (He also looked good as hell.) (Call us, Frank.)
Model Luka Sabbat wore this rather incredible red satin suit by Dolce & Gabbana.
A$AP Rocky and Moonlight star Ashton Sanders both wore Calvin Klein, with matching turtlenecks and their own spins on the suit, especially Sanders in that shiny leather. 
Pharrell Williams came in the designer of the night — Rei Kawakubo's Comme des Garçons — wearing her leather jacket and jeans, which you can see on one leg read "Rei." 
And, last but definitely not least, there was Diddy in this phenomenal Rick Owens outfit with a cape... 
...which he used to its full advantage. 
Ultimately, on a night when so many women decided on basic ballgowns rather than embracing the Comme des Garcons theme, the men actually managed to shine. 
And in a time when men's fashion is getting more interesting too, with designers like Gucci and Comme blurring gender lines, these looks come at a most appropriate time too. 
More of this, please, guys.