'Pokémon Go' Rocket Map: Hack shows you where the rare ones are, but is it worth the risk?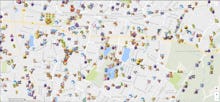 If you've been playing Pokémon Go long enough, chances are you're tired of having to go out of your way to find the rare Pokémon you need to fill out your Pokédex. Sure, you can use the Silph Road Nest Atlas, but that takes a while to get updated and the spawn locations change every two weeks. There are a number of programs you can use to find Pokémon more effectively — like Rocket Map for example — but you're sacrificing a lot for ease-of-use, and it's not really worth it.
Read on for some more info on the Pokémon Go Rocket Map.
Pokémon Go Rocket Map: How it works
Here's the thing — Rocket Map is similar to in-game jailbreaks like Pokémon Go++ and browser-based gym trackers like Gym Huntr. It's basically set up to take away from what makes Pokémon Go fun (the exploration and discovery of new Pokémon) so that you can find the Pokémon with the best stats or the most out-of-the-way gyms possible. Pokémon Go++ and Gym Huntr also violate Pokémon Go's terms of service since they allow you to access Niantic's data through a third-party application, which is strictly prohibited.
Rocket Map ups the ante on these already big risks by being incredibly hard to use on your computer. The Pokémon Go Dev subreddit is full of posts asking how to set up and install Rocket Map. If you don't feel like checking GitHub's wiki, however, one of the only video walkthroughs on how to do so is about 43 minutes long and involves messing around with a lot of code in order to make it work.
We admit that there are all sorts of ways to make games fun, but if you have to resort to using cheating and hacks, it might just be time to hang up your PokéBalls and wait for the next big update. Your time would probably be better served just getting out into the world and catching Pokémon for the 40 minutes it'll take you to even watch the Rocket Map video tutorial.
As usual, if you decide to use a hack like Rocket Map, you're accepting the myriad risks that come with it, including having your account banned. So we'd be hard-pressed to consider this one  we think it's worth it.
More Pokémon Go news, updates, tips and tricks
Check out Mic's Pokémon Go guides on how to get stardust, how to determine how long it will take you to reach level 40, the kind of Pokémon you get from 10-kilometer eggs, how to create new PokéStops, how to maximize your chances of catching Pokémon and how PokéStops distribute Pokémon eggs. Also check out how to catch Gen 2 baby Pokémon, our analysis of post-balance update Chansey and Rhydon and everything you need to know about finding the long-awaited Pokémon Ditto.