'GTA Online' Weekly Bonuses: Nagasaki Shotaro bike and Buzzard helicopter available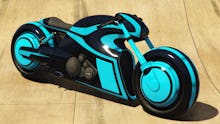 Grand Theft Auto Online has had a long life outside of the game it spawned from, GTA 5, due in part to the sheer amount of new content Rockstar keeps putting out for the online persistent, open-world portion of the game. It also helps that they continue to put out Weekly Bonuses to incentivize people to come back to the game as well.
This week, you can get the cool, TRON-inspired Nagasaki Shotaro bike for 25% off in the store.
GTA Online weekly bonuses: Nagasaki Shotaro and Buzzard are 25% off in the store until May 15
According to the official Rockstar newswire, the current weekly event goes from May 2 to May 15. You'll get bonus GTA$ and RP by running Clubhouse Contracts for Los Santos' various biker gangs. In addition, you'll get a 25% discount on buying your own clubhouse, outfitting it with customizations and buying properties associated with the bikers.
It wouldn't be a weekly GTA Online update without some vehicle deals. 
The futuristic Nagasaki Shotaro bike, the Nagasaki Buzzard helicopter, the Progen T20 sports car, the Annihilator helicopter, both prices for the Karin Technical truck, the Vapid Desert Raid dune buggy and the Vapid Trophy Truck are all 25% off in the store as well. If you've been hesitating to pick some of those up because of the prices, now might be the time to pull the trigger.
Additionally, vehicle and personal armor is 25% off. This will come in handy since explosive ammo, rocket and grenade launchers are also 25% off in the store until May 15 as well. Make sure you don't blow yourself up.
Finally, you've still got until May 8 to get bonus RP and GTA$ while playing Tiny Racers, the game's new Adversary Mode and you'll also receive a 25% greater payout for Special Cargo Deliveries as well (through May 15). If any of those strike your fancy, it's not a bad time to jump back into GTA Online and cause some mayhem.
More GTA Online tips and tricks
Check out Mic's GTA Online guides on how to buy Shark Cards, get rich without buying Shark Cards, run an auto theft ring, buy and sell property, increase your strength stat, treat yourself to plastic surgery and how to kill the Insurgent, one of the most powerful vehicles in GTA Online.