'Overwatch' 2.12: Update extends Uprising event's end time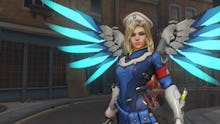 Upset that you didn't get all the skins you wanted for the Overwatch Uprising event before its May 1 end date? Good news: Blizzard just rolled out a small update, version 2.12, and announced that it's extending the Uprising event by one day to ensure players have a chance to get all the items they wanted.
Here's what you need to know about the new end time for Overwatch Uprising.
Overwatch 2.12: New Uprising end time
According to a post on the Overwatch Twitter account, Uprising has been extended through May 2 at 8 p.m. Eastern. Blizzard has not released patch notes for update 2.12, but it sounds like it was somehow involved in reinstating the Uprising event.
This move was in response to a number of fan complaints that the event ended a bit earlier than they expected, causing them to get locked out of the event-specific items before they had a chance to unlock them.
Let this be a lesson to you all: Make sure you have all the items you want the day before the event's scheduled end date. Blizzard might not be so willing to reinstate events in the future.
More Overwatch news and updates
For more on Overwatch, check out the rest of what Mic has to offer. Here is our Project Runway-style judging of every new Uprising skin, an unintentionally hilarious infographic showing the most popular Overwatch characters in each state, our definitive ranking of every Overwatch hero and a giant Overwatch FAQ for beginners.