Navigating Trump's America: The collapse of Trumpcare is happening all over again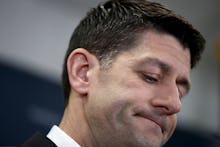 It's happening, again. Despite the push from the White House and staunch conservatives to kill the Affordable Care Act, dozens of Republicans in the House are signaling they don't want their dose of Trumpcare.
CNN's vote count says the latest version of the American Health Care Act is only two votes short of failing to pass. The Huffington Post pegs it at four votes short. Under the current bill, if you're sick and old, you would be at risk of paying far more for insurance than healthy people of the same age. You could also lose "essential health benefits," like coverage for prescription drugs and emergency room visits. States could opt out of requiring insurers to cover those things. Conservatives argue that would allow insurers to offer cheaper health insurance plans, but moderates and Democrats question the point of having insurance if it won't pay for what you need.
Those opposed to the bill are not solely moderate Republicans from centrist districts. Rep. Billy Long (R-Mo.) came out against the bill on Monday, citing its lack of protections for people with pre-existing conditions. Long has been a supporter of Trump and hails from a Missouri district that voted for Trump by a wide margin. But that opposition is what Republican leaders are seeing across the board: little willingness to gut Obamacare and risk the political ramifications. Press secretary Sean Spicer admitted as much on Monday, saying, "we're not there yet" on the votes for the bill.
Trump isn't making things any simpler. He told Bloomberg on Monday that the current health care bill is "not in its final form right now." He is walking back that comment in private phone calls, but that only throws a wrench into already tense negotiations. Another example: Trump said the bill will let health insurers sell their products over state lines. That's not in this bill.
The health care fight is again displaying a rift within the Republican Party. To please the ultra-conservative House Freedom Caucus, the White House and House Speaker Paul Ryan (R-Wis.) OKed the latest iteration of the bill that lets states opt out of insurance coverage like pre-existing conditions. As Rep. Mo Brooks (R-Al.) put it, people who "live good lives" should pay less for health insurance. (That comment drew backlash.) Changing the bill to please Brooks and his Freedom Caucus allies has alienated around 20 moderates with dozens more remaining undecided on the bill. At this point, Republicans hope to earn the bare minimum 216 votes to pass the health care bill through the House and make it a problem for the Senate.
What to know: Dozens of House Republicans remain undecided on this bill — a heavily amended piece of legislation that will struggle in the Senate. It's unclear whether Trump knows what's in bill. Whether this will pass, or even come up for a vote, before the end of the week is anyone's guess.
This is Mic's daily read on Donald Trump's America. Welcome to the political newsletter that is definitely a deciding vote on health care. 
Highlights:
Today: It's far from certain that Republicans can pass health care reform.
More: Deja vu all over again.
Even more: Did you catch Donald Trump's comment on Andrew Jackson?
Trump's agenda today: Participating in the U.S. Air Force Academy Commander-in-Chief trophy presentation. Speaking with Russian President Vladimir Putin by phone.
Trump history
Monday brought a bad case of the president not knowing his U.S. history. Trump suggested in an interview with the Washington Examiner that President Andrew Jackson was still alive at the time of the Civil War. Trump, who likes to compare himself to America's seventh president, later updated his comments on Twitter, noting that Jackson died 16 years before the Civil War began. Aligning himself with Jackson in the context of the Civil War is dubious. Jackson was a Tennessee slave owner and he never disavowed the practice. He was also responsible for the Trail of Tears, a genocidal forced march of Indians out of the eastern U.S. to less populated land in the Great Plains.
News and insight you cannot miss: 
•  "Democrats and Republicans ... were closer to one another than Republicans were to Donald Trump." That's how Senate Minority Leader Chuck Schumer (D-N.Y.) described the negotiations to prevent the government from shutting down. Instead of funneling cash to Trump's border wall or fulfilling other campaign promises, the deal increased funding for science and health care. Democrats believe they have the upper hand in funding decisions because Republican leaders, who want to avert government shutdowns, cannot convince members of their party to support more spending. (Washington Post)
•  Jimmy Kimmel has a personal message to Congress: Don't take away coverage of pre-existing conditions. (Mic)
•  Jon Meacham on Trump and the Civil War: "He told me a year ago he thought he could have done a deal to have averted the war." (Mic)
•  Marine Le Pen, a presidential candidate and leader of a far-right party in France, seems to have plagiarized a speech from one of her failed opponents. Le Pen is one of two candidates in a runoff election for France's presidency on May 7. (Mic)
•  An insightful read: How a secret Air Force keeps the president safe. (Politico)
•  Rodrigo Duterte, the strongman Philippine president Trump invited to the White House, said he may be "too busy" to accept the invitation. (New York Times)